Historical Application of CHP
CHP systems have been used successfully in the industrial sector since 1970 but the technology hasn't been widely applicable for domestic use, largely due to the system's size, weight, noise and cost. In industry, CHP systems are small 'Heat Engines' that provide all the power for an individual building. It is by harnessing the wasted heat from this process and using it for hot water, heating or cooling that the phrase 'combined heat and power' (CHP) is defined.
Turbine Based CHP Process Diagram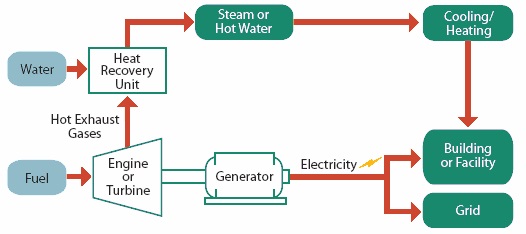 Boiler Based CHP Process Diagram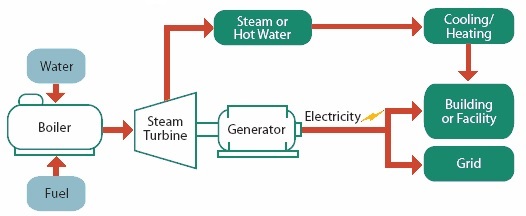 COMPARE PRICES FROM LOCAL INSTALLERS
Compare prices from local companies fast & free
Enter your postcode to compare quotes from leading professionals. We promise to keep your information Safe & Secure. Privacy Policy
Domestic and SME applications for microCHP
For domestic and small to medium enterprise (SME) applications, the microCHP unit in your home or business will do much the same as the larger scale CHP methods but on a much smaller scale. As previously mentioned, at an industrial scale, a vast amount of energy is wasted, both in its creation at the power plant and in its transference to your home or business (this industrial process can be as low as 30% efficient). It is this on-site, co-generation method that greatly increases the efficiency of the energy production process and thereby lowers the combined carbon footprint and reduces your reliance on expensive 'dirty' electricity from the national grid. mCHP boilers claim efficiencies of up to 98%!
MicroCHP Process Diagram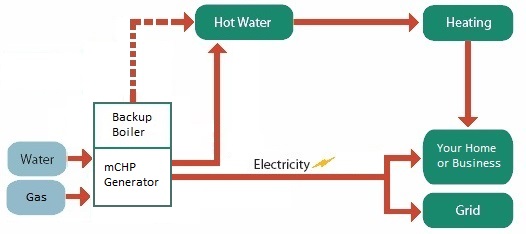 MicroCHP for the domestic household is a relatively new technology. Up until 2006 the economic viability when looking at the available 'domestic' unit's  payback period, rendered the micro-CHP technology unfit for domestic use, however this is all set to change in the very near future, with many competitively priced units preparing to be released to the wholesale market. As they begin to appear on the UK market, please check HERE as we will list both the units themselves and installers who will supply and fit them for you.
microCHP in industry
Large scale 'Heat Engine Systems' (power plants), are used to generate electrical power for modern life, by burning a variety of fuels and converting them into mains electricity. They are however, extremely inefficient – they are unable to convert all the energy from the fuel they burn into electricity and some of the electricity is lost upon transmission through the national grid to your home or business. It is the wasted heat from this process that can be utilised by a microCHP system and turned into heat and hot water for your property.
Power Plant Efficiency Diagram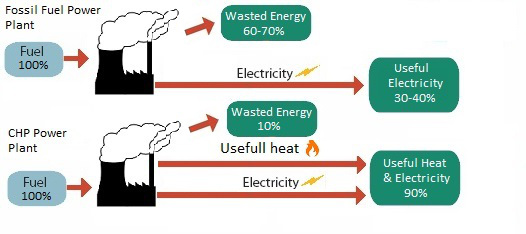 Find a local installer
Welcome to the biggest directory of UK renewable energy companies