This section will inform you about what you should expect from your microCHP boiler installer and what you need to know about your appliance. It will also help you to find the right professional for your install. At the bottom of this page we provide a link to our database where you can search for an microCHP installer that can service your area.
First things first; in order to classify for the generation and feed-in tariff your micro-CHP boiler will need to be certified by MCS. Your installer will also need to be MCS accredited. These are the guidelines set out by the government and there are no excuses. Your installer should know all about this and have a comprehensive knowledge of how the m-CHP unit works and what to expect from it. Your installer must be 'Gas Safe' registered legally but should hold ACS elements CCN1, CEN/CENWAT and CPA1 as a minimum.  There are also further, more specific courses for installers looking to install m-CHP units but these vary depending on the technology. UK building regulations also state that the relevant 'Building Department' must be notified of the installation of a heating appliance. This can now be achieved by a competent person via Self Certification Scheme as an option to notifying the Local Authority directly.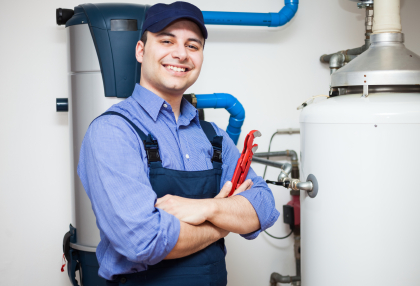 As with all mains gas related technology you should be provided with a commissioning checklist and a service interval record to help you keep up with servicing. Building regulations also require that the unit and its installation should comply with the manufacturer's instructions of install and use (only for dwellings and related structures).
As with all gas boilers you should have regular servicing to ensure the unit is safe, optimised and running correctly. You should have your system serviced no less than once a year.
At the point of installation, try to ensure that your boiler's flue has sufficient inspection hatches or your unit could be deemed 'at risk' by future service engineers.  Visual examination checks by engineers via inspection hatches, is currently the preferred method. This is recommended by the industry guidance that explains how to judge a flue is working safely and effectively. However, where inspection hatches are not practicable, industry has developed a safety system which is able to monitor the void for the presence of carbon monoxide. This system causes the boiler to shut down if CO gas build-up is detected.  Speak to your Gas Safe Registered engineer for advice on what solution may be appropriate for you.
COMPARE PRICES FROM LOCAL INSTALLERS
Compare prices from local companies fast & free
Enter your postcode to compare quotes from leading professionals. We promise to keep your information Safe & Secure. Privacy Policy
Accreditations associated with Micro CHP boilers
Currently available, domestic use microCHP boilers run mainly on Gas or LPG so your installer will also have to be registered Gas Safe. The Gas Safe Register is the official list of gas engineers who are qualified to work safely and legally on boilers, cookers, fires and all other gas fuelled appliances. This register (UK only) replaced CORGI as the gas registration body on 1st April 2009. The main focus of the register is on improving and maintaining gas safety. All 125,000 professionals currently registered are qualified to work with gas.

You can check that your installer is MCS certified by asking for his MCS number and checking with the MCS website. All MCS certified installers are listed there.  To check an installer is registered Gas Safe you can ask for their ID card and you can then confirm that the engineer is registered by calling 0800 4085 500 or by checking online: Gas Safe.

Being Gas Safe isn't the only certification an installer will need. Gas engineers have a range of qualifications that allow them to carry out specific tasks/ types of work. It is important that you check what types of work they are qualified to do before you commission them for the job.
The three main things to check are that they are qualified to:
A) Install domestic and or non-domestic gas appliances.
B) Install LPG and natural gas appliances.
C) Work in different areas e.g. boilers, cookers, fires etc.
You can find out what an installer is qualified to do by checking online or by looking at the back of their ID card. An microCHP installer should hold ACS elements CCN1, CEN1/CENWAT and CPA1 but it's easier to simply check their ID card where you should find 'microCHP' listed under Domestic along with whether or not he/she is qualified to install with gas and/or LPG. There are a range of more specific, non-essential courses for installers looking to install microCHP systems. BDR Thermea run a course for the Baxi Ecogen microCHP unit for example. Check with your installer about his/her experience with installing and advising on your unit.
Find a local installer
Welcome to the biggest directory of UK renewable energy companies