The Green Deal for Solar Panels
--This Scheme has now been CLOSED by Government --



What was the Green Deal for solar panels?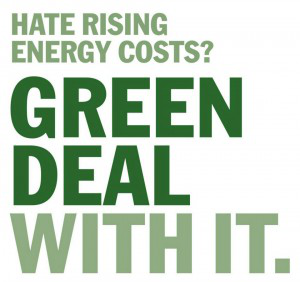 The Green Deal for solar panels is a government run financing scheme that has been set up to help you make energy saving improvements to your home or work place. It enables you to make these energy saving improvements without having to pay for it all upfront. You still have to pay back the full amount over time; the Green Deal is a loan not a grant. However, the idea is that the savings you make on your energy bills will cover the costs of the loan repayments whilst lowering your carbon footprint. You can also choose to pay for the improvements in advance using the Green Deal providers and certified installers. The Green Deal is available for a variety of install types and technologies including, insulation (cavity, loft or solid wall), heating, draught proofing, double glazing and renewable energy generation methods like solar panels and heat pumps. By taking a Green Deal you could well be protecting yourself from future energy price rises.
How did you go about benefiting from the Green Deal.
1: Check if your home or business is likely to benefit from the Green Deal below.
Your building is applicable for the Green Deal if one or more of the following applies;
Your building wasn't built in the last three years.
The walls and or loft are not insulated.
You have an old boiler and no heating controls.
You are interested in renewable heating or generating your own electricity through renewable means.
2: You can get a Green Deal assessment of your home or business to see what improvements you can make and how much you could save through these improvements.
You can contact us to find out more about getting your property assessed by a Green Deal assessor.
You can use this assessment tool to see if your building is applicable for the Green Deal loan scheme. There is usually a charge of between £95 and £150 for an assessment so it is highly recommended that you do this before asking an assessor to come and check your building.
3: You will then need to decide how you are going to pay for the improvements. There are two main ways to pay.
You can have a loan to fully cover the costs of the improvements so you don't have to pay them in advance. You will have to pay the loan off in instalments that are added to your electricity bill. These instalments are based on what a typical household is expected to save once the work has been carried out. These costs will be shown on your Green Deal finance plan, which will include interest rates. This is the contract that will exist between you and your energy provider. Although this is generally worked out by how much you are saving so that your overall bills do not increase, the actual increase or decrease of your energy bills will still depend on factors such as energy price increase and the manner in which you use it. The Green Deal stays with the property so you won't have to continue paying the loan if you move. You can pay back the Green Deal loan early although some energy providers may charge a fee for this service.
Alternatively you can pay for the loan upfront as long as a Green Deal assessor has organised it and the work is done through a Green Deal provider. By doing this can you avoid the interest costs but are still eligible for the governments 'cashback' scheme featured below. This means that even if you are paying in advance, you will need to contact an energy provider not an installer to be eligible for the cash back after the work is done.
*The cashback scheme is due to end in March 2014.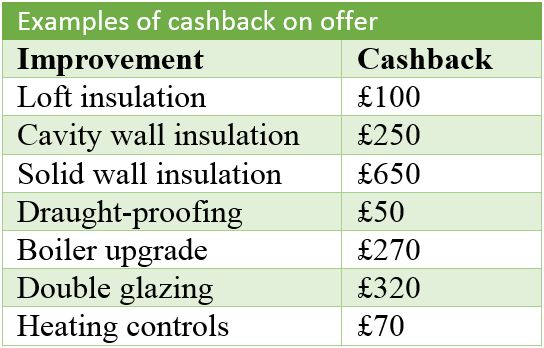 These are rates for England and Wales. They're guaranteed for the first £40m of cashback, but the rest of the promised £125m could be at lower rates.
The bullet points below are designed to give answers to frequently asked questions and to give some more tips on getting a Green Deal loan.
If you need any further information at all then don't hesitate to contact one of our team through the 'contact Us' tab on the right.
As a landlord you must get your tenants permission before you go ahead with any improvements. Likewise, if you are a tenant you must get your landlords permission before making any improvements. (this also applies to social housing)
Be mindful that if the energy demands of your property drop there is a possibility that your bills could work out more expensive. Although this is very unlikely due to the conservative nature of the initial assessment.
Shop around for a cheaper assessor fee as this charge could vary dramatically.
Make sure you do a home assessment check before paying for an assessor to come out to your property.
Check if your local authority is offering cash for assessments. The Government put up a £20 million fund for local authorities to apply for funding and promote the Green Deal in their area.
Check if the company offers the initial assessment fee back if you go ahead with the work as we have found that some do.
In Scotland you can get a maximum of £1200 through the cashback scheme. However, for a limited period you can claim your assessment fees back. For more information on the Scottish Cashback scheme click the text.
If you live in a cold house and worry about turning up the heat this scheme should help you turn up the heat at less cost.
The loan is attached to your home, not you, so if you move the next owner pays the bill. As this is a fairly new scheme we have yet to figure out how it affects property prices.
You can still benefit from the Cashback scheme even if you pay the loan off straight away.
The loan is 'unsecured' which means that the loan provider can't take your property if you can't repay the loan.
The interest on the loan is variable depending on its amount and length so check how much a range of providers will charge.
If you decide to pay a loan back early, especially on a 15 year loan, your provider could charge you for compensation. Check your provider's policy on this before entering a contract.
If you are on benefits or if you are looking for insulation you may be entitled to free cash. Contact us using the 'Contact Us' form for further info on this.
You only need one assessment so get at least three quotes for the work. You can haggle the price on install with the installers; often you will be able to get a better price by offering less than the quoted price!
Combining improvements can make Green Deal loans more affordable. As the amount you pay back is directly related to the amount you are saving, combining improvements such as insulation and solar panels can lower your energy needs and end up costing you no more than you are currently paying on your energy bills. You will still be able to benefit from both improvements.
You can still switch energy provider. All the big six energy providers are offering the Green so you can switch between them and continue to pay your Green Deal loan off as you were doing. Check everything with both providers first to ensure that there are no further costs.
If your Solar panels (as an example) break after the warranty has run out and before the Green Deal loan is paid off you may still have to pay for the panels.
The Green Deal has very strong consumer protection rules. Make sure you go to the Ombudsman if you are given any bad advice. You can either visit the Green Deal Ombudsman site or call 0800 023 4567.
The Green Deal certainly seems to be a good move for those looking for Solar panels who can't afford to pay for them upfront. Your home or business will generally benefit from the improvements covered by the Green Deal initiative. This said, always look into the details as much as possible before making up your mind and always ensure you are with the cheapest provider.
If you have any further questions, please don't hesitate to contact us using the 'Contact Us' form.
Read more on The Green Deal here.
--This Scheme has now been CLOSED by Government --