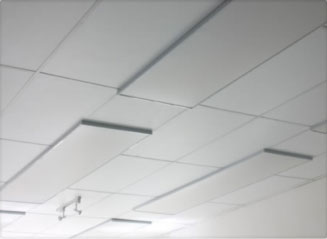 Whilst domestic properties have been a little slow on the uptake of infrared heating technology it has long been a standard method of heating large spaces particularly factories and warehouses where there is often a need to move away from standard convection technologies.
Despite this, it is certainly becoming more widely used and is now a popular way of heating smaller commercial premises, such as shops and offices, because of the aesthetic appeal of the panels and the reduced running costs compared to some other heating systems.
Benefits of Infrared Heating
For commercial premises infrared heating provides a quick and easy to install solution for keeping business spaces warm.
Reduced costs compared to other, fossil fuel systems helps commercial concerns operate in a more efficient and carbon friendly way.
When linked with technology such as solar panels it can help to reduce costs further.
Non-domestic premises can benefit by taking advantage of the Green Deal to fund upgrades to existing technology such as infrared heating.
For businesses like shops or offices, infrared heating panels blend well with the décor and can be found in a range of different designs including glass, mirror and printed pictures.
Quicker heating because infrared warms up solid objects rather than the air means you don't have to wait for a room or office to heat up as you do with convection systems.
COMPARE PRICES FROM LOCAL INSTALLERS
Compare prices from local companies fast & free
Enter your postcode to compare quotes from leading professionals. We promise to keep your information Safe & Secure. Privacy Policy
Types of Commercial Infrared Heating
As with homes, for small businesses and commercial premises the ideal solution for infrared heating comes through panels. These are lightweight and easy to install and can be used in a variety of circumstances to suit almost every need. For small offices a single wall or ceiling mounted panel may suffice, but for larger areas such as a meeting or sports hall you will find that a number of panels will need to be incorporated and strategically placed.
For industrial complexes such as factories and warehouses, the use of infrared heating has been around for a long while now because of its potential to reduce costs and provide coverage over large open areas. A range of ceiling and wall mounted ceramic heaters are used here to combine for wide spaces and can be easily installed and moved if necessary.
Cost of Infrared Heating
The cost for small commercial premises is comparable to that of domestic homes. Infrared heating panels vary in price from the cheapest at £79 to larger, design friendly options that can range from £300 to £400 and can include mirror and picture panels.
On top of that, for commercial premises there is the question of the number of panels that need to be installed to provide a full heating effect. Most businesses will consult with an installer or supplier who can advise on things like the positioning and size of panels needed as well as the potential cost savings.
For industrials sites, the cost will obviously depend on the size of the property and the amount of space that needs to be heated, as well as the other renewable and carbon friendly technologies that are being utilised.
Case Studies for Commercial Infrared Heating
As with the installation of most heating systems, particularly on a large scale, the costs and ultimate savings often depend on the type of technology that is being replaced. Many smaller businesses are starting to install infrared heating as a viable and cost efficient way of heating their premises with additions such as remote thermostats further allowing them to control the amount they spend.
Bee Infrared Heating are a company who specialise in both domestic and commercial systems and quote work they performed on the premises for construction company Forgewood Midland who have an open plan office with forty work spaces. The company wanted to replace their old and inefficient hot water system and the Bee installed a total of 121 panels operating at 280 watts, all fixed to the ceiling. They calculated that this would save Forgewood Midland over £142,000 over ten years.
For smaller businesses, having infrared heating installed can provide significant savings at a smaller initial outlay than other systems. Redwell installed a number of panels for McIntyres Hair Salons in Scotland including some panels that were printed with pictures from the company's style portfolio. This had the result of freeing up floor space that had previously been taken up with bulky heaters and has provided a high level of thermostatically controlled comfort as well as reduction in energy bills.
Finding an Installer for Infrared Heating
More so than for domestic premises, commercial concerns will probably benefit from letting a trained installer take a look at their property with a view to finding the most cost effective and efficient system to put in place. This will include the cost benefits of changing from your existing heating system and the potential savings over the life of the installation.
You can search for the best installers of infrared heating technology in your area by putting your details into our comprehensive database.
Find a local installer
Welcome to the biggest directory of UK renewable energy companies