Information about Air Source Heat Pumps
What are air source heat pumps?
Air source heat pumps work because of a phenomenon called heat transfer. It may surprise you to hear that even in temperatures as low as -18°C (0°F), enough heat exists in the outside air to heat your house. Air source heat pumps take air from outside, extract and amplify the heat contained in the air, and then use it to circulate hot water around your central heating system. In fact, this heat can either take the form of hot water which feeds through pipes and radiators, or hot air and a series of ducts and vents.
COMPARE PRICES FROM LOCAL INSTALLERS
Compare prices from local companies fast & free

Enter your postcode to compare quotes from leading professionals. We promise to keep your information Safe & Secure. Privacy Policy
How do air source heat pumps work?
An Air Source Heat Pump (ASHP) system comprises several parts. At the core of the system is a liquid known as transfer fluid. This substance captures heat from the outside air and transfers it inside the property.
The system relies on many parts to achieve this goal. First, there is the heat pump itself, this machine lives outside of the house. It looks a lot like an air conditioning unit or a big box. It's designed to suck in air and in many ways, it's the same device as an air conditioner or a fridge with a compressor that increases or decreases the temperature.
The next part of the system is a device called a heat exchanger. Here, the system transfers the collected heat into either air before blowing it into your home, or into water to circulate around a central heat system. After this stage, the transfer fluid returns to the start of the circuit, and the process begins again.
Unlike ground source heat pumps, fitting an air source heat pump doesn't involve a lot of construction work. An air to water heat pump is usually the size of a washing cut in half and put end to end. The space you need has been described as the area needed to lean a moped against a wall. Keep in mind that it must be installed one meter or more from the neighbour's perimeter in England and Scotland and two meters in Wales.
Air to air systems are usually wall or roof mounted and come in all shapes and sizes. It's worth considering that both types of ASHP may be subject to planning considerations in listed properties or properties in conservation areas.
The technology has been around for years, it's very popular in Scandinavia and providing the system is installed correctly, in a well-insulated property, ASHP's are more than capable of providing all your space heating and domestic hot water requirements.
A recent study found heat pumps more than twice as efficient as fossil fuel boilers, even in cold weather. Domestic units can take 2-5 days to install so you may not have domestic hot water or heating for a few days.
What kinds of air source heat pumps are there?
There are two main air source heat pump variants:
Air-to-water systems:
These units collect air before transferring the heat to hot water in your house. This hot water could go to the hot water tank or circulate around the radiators. Like ground source heat pumps, these systems work better when paired with underfloor heating rather than radiators. This is because they produce heat at a lower temperature than traditional gas central heating. Having a larger surface area to radiate heat from is the optimal solution for low temperature solutions.
Air-to-air systems:
These devices produce a flow of warm air rather than transferring the collected heat to water. The heated air is then fed via fans through a series of ducts and vents to heat the house. It's less versatile than an air-to-water as it can't produce hot water or heat radiators. These can be used to heat an entire property but in this case, will often need to be installed while the property is being built utilising a warm air ductwork system. Alternatively, they are a great solution for heating an office room or conservatory, perhaps a garden room or outbuilding.
*Air to air systems are not applicable for the BUS.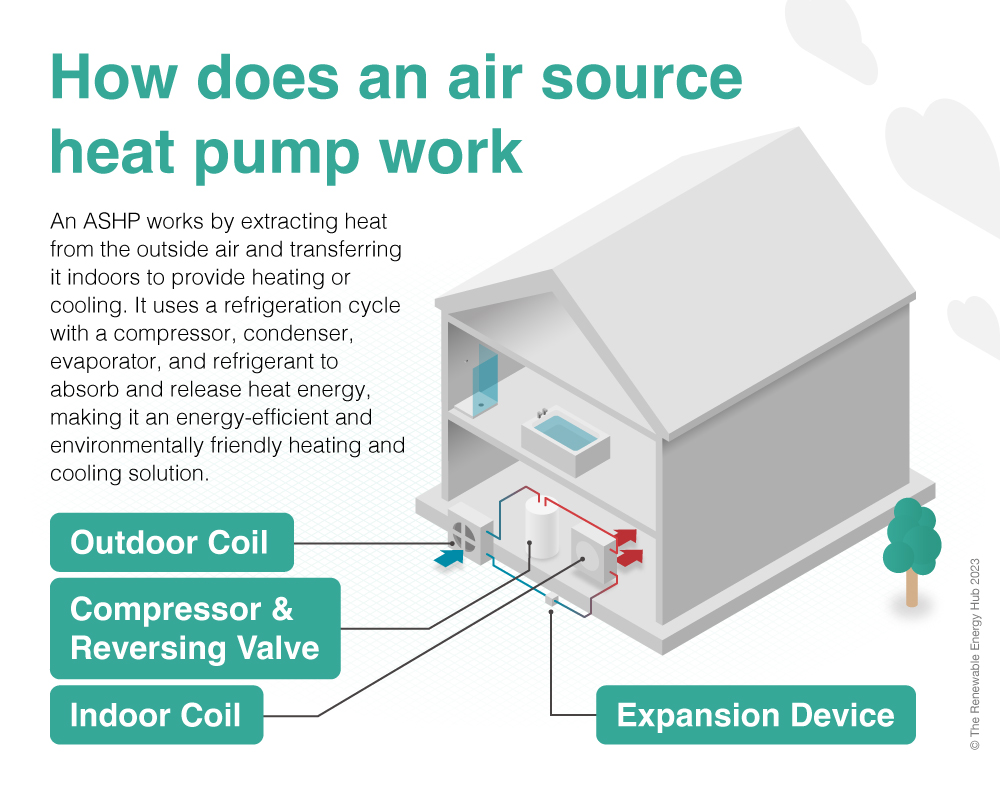 What are the benefits of an air source heat pump
Cost is a major factor to consider. An air source heat pump will likely lower your energy bills. Particularly if the system replaces an oil, LPG or electric boiler on a modern central heating system.
There are many incentives and schemes designed to boost the usage of air-pump heat systems. The Government offers many programs like the Boiler Upgrade Scheme (BUS) which offers up to £7.5k towards the upfront costs. This cash helps you replace your existing boiler with a modern solution, saving money on your energy bills and protecting you from the future price increase (and taxes) of fossil fuel systems.
A lower carbon footprint is another benefit. As long as your new heat pump is a replacement for traditional gas, LPG, solid fuel or oil-fuelled boiler system.
Maintaining a heat pump system is easier and more cost-effective than traditional central heating.
Air source heat pumps are cheaper and easier to install than more complicated ground source heat pumps.
You may find you end up saving money in other areas too. Like lower insurance premiums, or if you can remove gas altogether saving you the annual standing charge.
As a combustion-free system, air source heat pumps are safer to use. Also, because they are emission-free, you may even find there are some health benefits too.

Are air source heat pumps a renewable energy?
As the systems still use electricity to drive the pump, they're not a true renewable energy source. They don't burn fossil fuels though so if you get your electricity from a provider that is generating through renewable means, they can be argued to be carbon neutral. Air source heat pumps still count in many of the subsidies and programs designed for renewable energies. That said, air source heat pumps provide heating at a lower temperature. Therefore, they are designed to be on for longer periods to create an ongoing ambient temperature and heat your property through.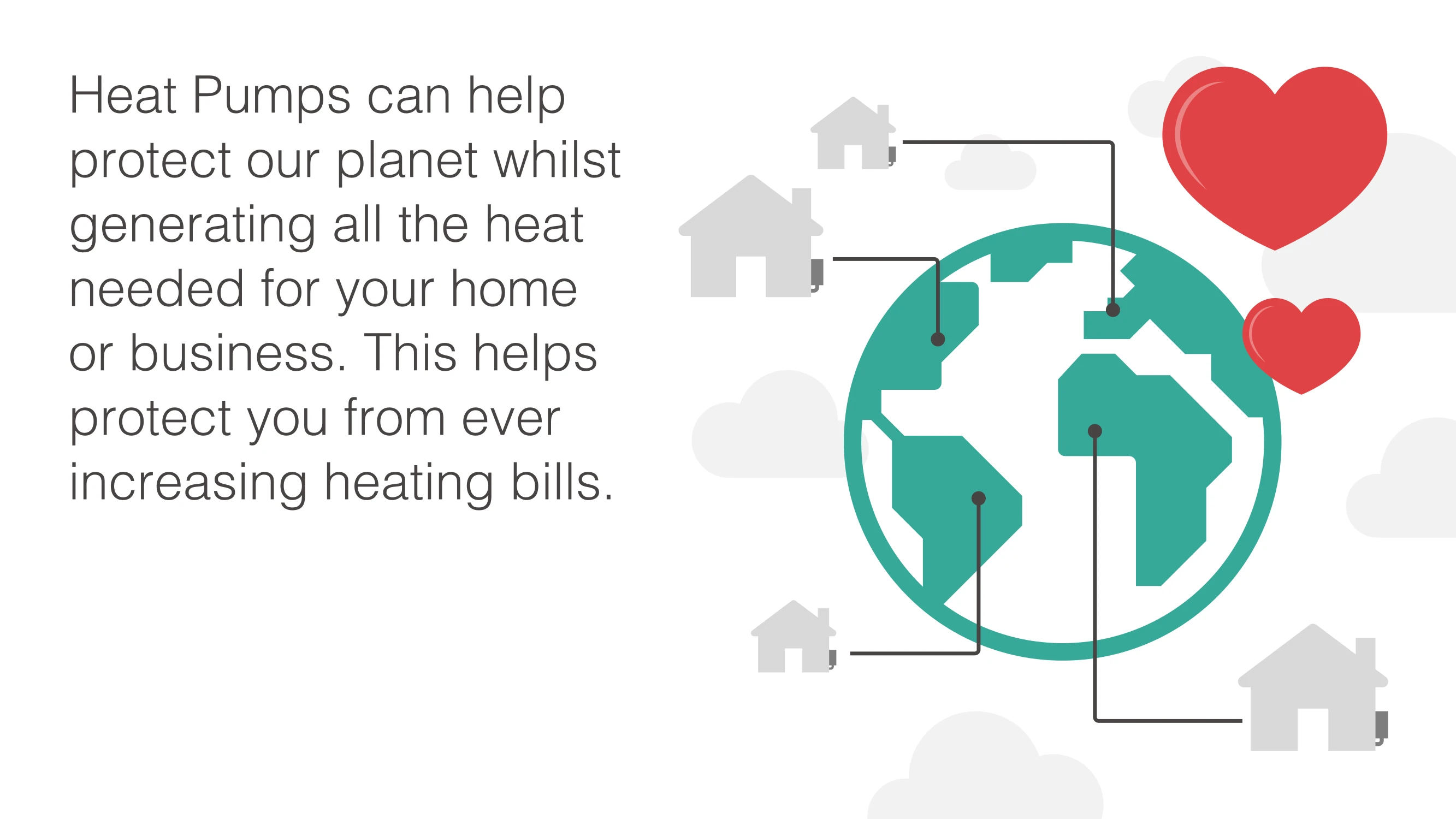 Is an air source heat pump right for you?
Before making that decision, here are some factors you need to consider before opting for an air source heat pump.
Most important of all, you need to consider whether you have the space for and the stomach for a big box outside your house. Technology has come on some, and these boxes are no longer as cumbersome and clunky as they used to be, but they are not things of beauty. Also, you need to ensure the pump is close enough to be effective, but at least one or two metres from your nearest neighbours. While the pump itself is not overly bulky, it will require a decent amount of space around it to draw in the air. A sun facing wall with plenty of space is ideal.
Efficiency is another thing you'll need to factor in. The way air source heat pump's function requires the property to have adequate insulation. Heat pumps, in general, are better at attaining and maintaining lower temperatures. They do this by keeping a steady temperature rather than providing instant higher temperatures. If your home has poor insulation, your heat pump must work harder to effectively heat the property. There are high temp heat pumps, but they use more electricity.
In terms of return on investment, an air source heat pump will nearly always (check with your installation company) save you money over traditional central heating systems. The returns can be significant when switching from oil, LPG or standard electric boilers specifically. It's a little tighter when switching from a modern mains gas boiler but should still offer a good saving.
Unlike traditional heating, air source heat pumps are more effective with underfloor heating. Thanks to the lower temperatures at which they operate, underfloor heating works better than traditional radiators. This said, radiators can be perfectly usable. They will need to be sized correctly, preferably doubles not singles and installed on 15mm pipework, not microbore.

What is the cost and ROI for an air source heat pump?
Depending on the size of your house and your demands, a standard ASHP (air to water) system can set you back anywhere from £8k to 16k. This figure does not include potential subsidies, and the actual costs can vary thanks to many factors.
These include factors like the size of your property, any changes that may need to be made to your CH system, the current state of demand, and how many bells and whistles you want your system to have. Remember, the price you pay for your installation can also affect the time it takes to see a payback period. It's impossible to give a ballpark figure of how long it really takes for a heat pump to pay for itself, there's just too many variables. That said, your installation company should be able to provide you with the necessary information to figure it out. You can always give us a call or click the contact us button at the top of the page for impartial advice.
There are other things to consider:
The type of heating system the heat pump replaces, its efficiency, and how much it costs to run. Simply put, replacing an older, less efficient system means better savings.
How your new system distributes its heat. For example, underfloor heating is far more efficient, and using this system means better savings than normal radiators.
Air-to-water systems are the go-to system in the UK but if you have a modern gas boiler (less than 5yo) and your pipework is microbore, switching to an ASHP may not work out on paper.

Check out our full guide on How much does a Heat Pump cost to Install and run.
COMPARE PRICES FROM LOCAL INSTALLERS
Compare prices from local companies fast & free

Enter your postcode to compare quotes from leading professionals. We promise to keep your information Safe & Secure. Privacy Policy

We mentioned subsidies above and there are a few programs available to help individuals make the move to a heat pump system. These are as follows:
Boiler Upgrade Scheme (BUS)
The Government's Boiler Upgrade Scheme (BUS) is a recent addition to the raft of incentives to help the UK achieve its goal of Zero Carbon by 2030. This subsidy offers eligible candidates up to £7500 towards the cost of an ASHP.
Eligibility:
The building must either be a home or a small non-domestic property in England or Wales. (Scotland has its own programs and criteria). In addition, it must not exceed a maximum installation capacity of 45kWth.
Although there are some exceptions, qualifying requires a valid energy performance certificate. This must include the loft or cavity wall insulation.
All systems commissioned after 1 April 2022 qualify.
Most combi boilers and some heat pumps are eligible. Biomass boilers only count in rural locations where they are not connected to the gas grid. Heat pumps do not have either of these restrictions, but the scheme only covers air-to-water systems.
The existing boiler must be an existing fossil fuel system. Oil or gas boilers count as do some electric heating systems with storage or panel heaters. There is no funding available to replace existing low-carbon systems.
The BUS scheme does not limit you to this provision. Applicants remain eligible even if they've received separate funding for other programs. These can include energy efficiency upgrades such as insulation, doors, or windows.
Neither new-build homes nor social housing qualify for the Boiler Upgrade Scheme. Although if you've built your house yourself or it qualifies as a self-build, you can still qualify.

The Energy Company Obligation 4 (ECO4)
This scheme, now in its fourth iteration hence the name, is a program aimed at lower-income households. The Energy Company Obligation offers eligible applicants air sourced heat pump installations for free. In general, to qualify a household needs to have a low income and be in receipt of some benefits, although there are exceptions. The criteria vary thanks to another provision called LAFLEX (Local Authority Flexibility. Councils with less eligible applicants can offer the provisions to homes with poor energy efficiency too.
Eligibility:
Lower-income households
In receipt of benefits (some exceptions apply).
Poor energy efficiency
Home Upgrade Grant (HUG2)
This program offers households the chance to claim grants of up to £25,000 to improve the energy efficiency of their home. Grants can pay for insulation, general repairs, and new heating systems including air source heat pumps. Qualification for the HUG2 scheme is a bit opaque. Different areas appear to have different rules, so please consider the following as a guideline only.
Eligibility:
Own and live in a property not connected to mains gas for heating (exceptions apply).
Your house needs an Energy Performance Certificate (EPC) rating of D, E, F, or G.
Your combined gross household income can't exceed £31,000 a year unless you live in a pre-approved postcode.

How to choose the best air source heat pump for you?
Whether you opt for an air-to-air or an air-to-water heat pump is up to you. Much depends on your need, and both have their benefits. An air-to-air system, for example, can provide both heating and cooling while only an air-to-water heat pump can provide hot water for space heating and domestic hot water for your showers and hot taps.
You may find our guide to getting heat pump quotes useful at this point.
How to install your air source heat pump
Under normal circumstances, you don't need planning permission to install an air source heat pump, but there are some exceptions.
Installing a heat pump in an average house is covered under 'permitted development'. Your engineers still have to abide by general building regulations though. Things get trickier when a property has an additional status like Grade 2 Listed or English Heritage status. Things also get complicated when a traditional installation isn't possible. In the case of heritage and conservation concerns, it's best to contact the relevant planning department. If the problem means an alternative installation plan it's best to chat to your supplier or engineer. The reasons for an alternative installation vary, but in general, it means a lack of usable space. This may mean the air pump needs to be fitted closer to a neighbouring property than the current one/two metre allowance. Or it could mean fitting the heat pump to your roof exceeds standard height restrictions. This is often the highest point on your roof.
When in doubt it's worth asking your local council. However you proceed, do it right. Remember your system will need appropriate certification to benefit from offers like the Boiler Upgrade Scheme (BUS). To get a certificate your installer must be accredited with the Microgeneration Certification Scheme. You can search our database of reputable installers in your area here.
In addition to the legal and planning aspects of installing an ASHP, you'll also have to consider the practical and aesthetics of the system. No one can claim air source heat pumps are that attractive. Remember, you'll need to live with yours for decades so pick one your happy with.
Besides how they look, there's also thenoise factor. The technology has improved, but remember we're still talking about a fan outside your window. Near silent fans and less obtrusive versions exist but expect to pay a premium for a brand name next-gen appliance. Most manufacturers have a 'whisper quiet' line these days so make sure to ask your installer what brands and models they offer and check the decibel rating.
There's also the infrastructure to think about. Installing an ASHP involves more than a big fan. First, before you do anything you'll want to ensure your home is as insulated as possible. Heat lost to draughts and gaps reduces the efficiency of your system, potentially delaying your ROI.
Once your insulation is up to scratch, you may need to upgrade or refurb your pipework and radiators. Unlike traditional gas-fired central heating, air source heat pumps work better with larger diameter pipes. They don't really work with microbore pipes sometimes found in gas central heating. If you do decide to go through with an installation you'll need to factor in a few days disruption, and you may be without central heating too.

You can search our database of reputable installers in your area here.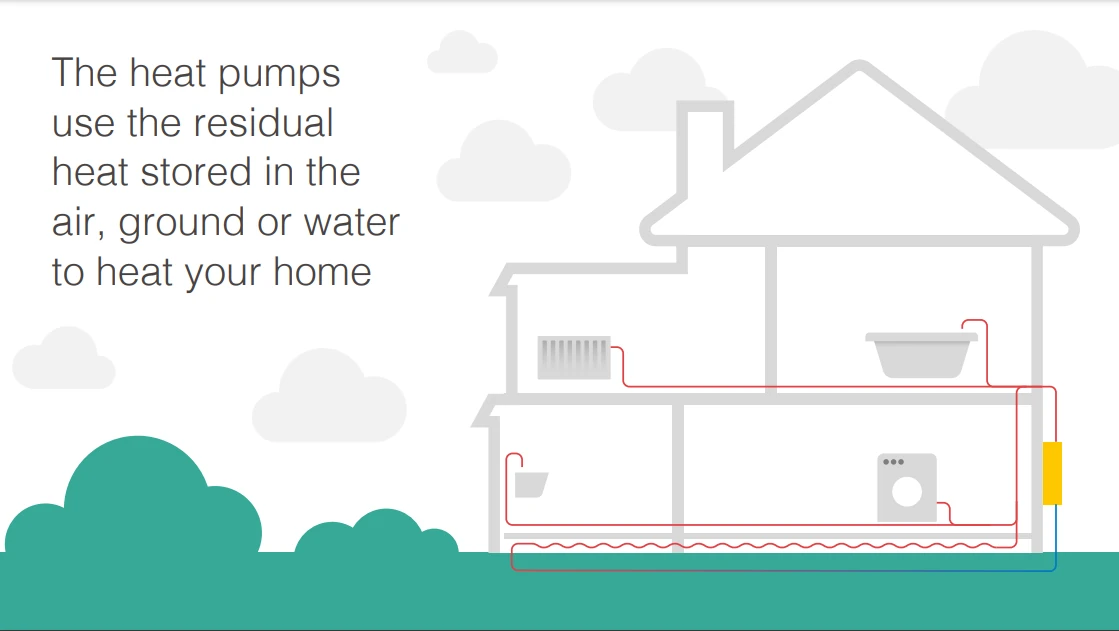 Find a local installer
Welcome to the biggest directory of UK renewable energy companies