Infrared heating is a clean and economical way to heat a room or even a whole house and the great thing is it's easy to install. It works by heating a body or object rather than warming up the surrounding air as with a normal convection system such as radiators or a fan heater.
Infrared heating used to be the province of large industry who have incorporated the technology for a good few years and we are more used to seeing it in factories and large workshops.  With people increasingly looking for more efficient and cleaner ways of keeping themselves warm during those cold winter nights, the popularity of infrared heating panels has surged in the last year or two as we all become aware of the possibilities.
Whilst there are quite a few different types of infrared panel, the ones used in domestic situations tend to be flat panels. These have numerous advantages over other types of heating that are available today.
The Benefits of Infrared Heating for your Home
Because infrared panels heat objects rather than the air, they generally provide warmth a good deal quicker than most convection systems.
They are cheap to buy and easy to install and can be used for particular rooms or for a whole house.
Many suppliers boast that infrared heating can greatly reduce the cost of keeping a house warm, some even suggesting as much as a 70% saving on bills, but this obviously depends on the type of system being replaced.
Much like a flat screen TV, infrared heating panels can be simply attached to the wall of a room or even hung from the ceiling.
They are available in a wide range of aesthetic designs including mirrors, coloured glass and picture prints which means they can blend in with the décor of a room, taking up less space than radiators.
There is no problem with needing to install the pipework that comes with something like gas central heating.
Because they lightweight they are easy to move if you desire which makes them more flexible than more conventional heating systems.
Infrared heating is thought to be a lot healthier than convection systems and helps to keep damp walls dry.
Many infrared heaters can now be tied up with Wi-Fi thermostats and timers that can help control the temperature of a room more accurately and further reduce costs.
COMPARE PRICES FROM LOCAL INSTALLERS
Compare prices from local companies fast & free
Enter your postcode to compare quotes from leading professionals. We promise to keep your information Safe & Secure. Privacy Policy
The Cost of Installing an Infrared Heater
Costs vary depending on the quality, size and power of the infrared heating panel that you choose. You can pick up one online for as little as £79 or go for a larger panel with a specific design that can cost up to £300 to £400. Thermostats and remote controls can be purchased in addition for around £30 to £50 and are ideal if you want to have more than one in your home.
You can save even more money by installing the panels yourself if you have a small amount of DIY capability. It is a good idea, however, if you are unsure, to take the advice of a professional who will be able to tell you the right size and wattage you need to heat a particular room as well as the best placement for optimum effect.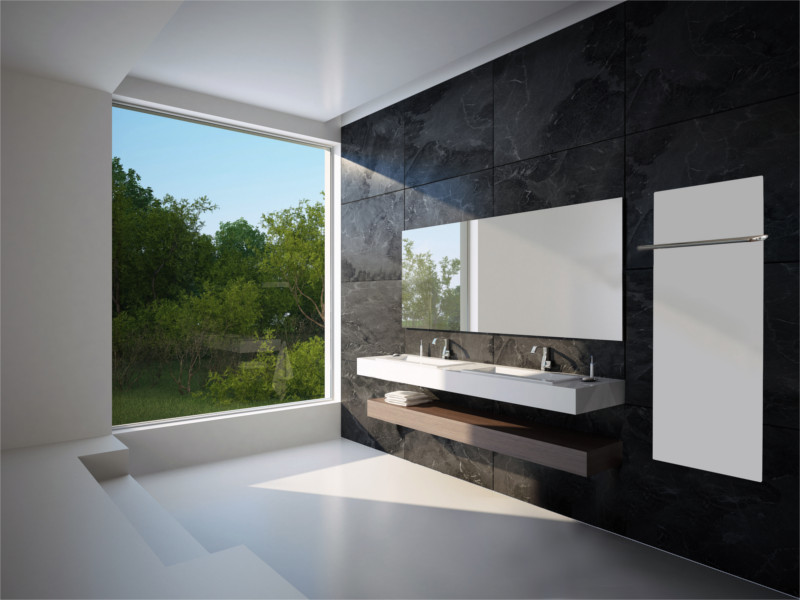 Case Study
When you are first installing infrared heating into your home one of the prime considerations you need to get right first is the insulation of your home, including cavity wall, double glazing and lagging the loft. Sorting this problem out initially will make sure you get the most out of this kind of heating system.
Sustainable Energy Scotland outline a case study for the Dighty Burn in South East Angus. This involved firstly putting in the right insulation for this old building and then incorporating a system of infrared heaters. The company claim that the changes would bring an estimated annual saving of just under £1,800 and an estimated £63,000 saving over the 36 year lifetime of the system (a potential energy reduction of 40% for the whole building).
As with most changes, the benefits depend on the heating system that is being replaced, which in this case was an oil fired boiler. It should also be noted that a large portion of these cost savings were also achieved with improving insulation in the building.
Finding the Right Installer
If you are looking to put in just one or two infrared heaters you may not have much need for a qualified installer. Putting up a single panel is a fairly simple process and can be completed by any competent DIY enthusiast in a short time. If you want infrared as a more complete heating solution for your property then it is probably best to get the right advice. This could include:
The number of panels needed and the positioning, along with potential savings on your current system.
Whether you need a series of thermostats to remotely control your new heating system.
The power and size of your panels as well as the different design formats available.
You can contact us today and we will give you the best advice and a competitive installation quotation
Find a local installer
Welcome to the biggest directory of UK renewable energy companies