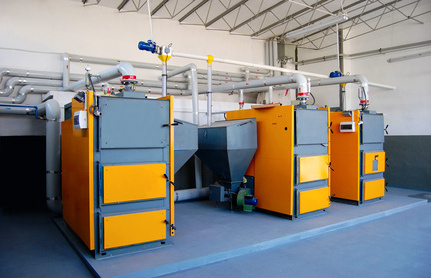 An introduction to commercial biomass solutions
Commercial biomass is now an extremely viable investment, due in the large part to the Government's RHI (Renewable Heat Incentive) scheme.  Biomass systems installed for commercial, charity, public sector and non-profit organisations can significantly lower energy bills, reduce CO2 emissions (with all the benefits that arise from this) and earn a healthy income, depending on the method of heating currently in place and the overarching demands of the user(s).
This section will give you all the information you need if you are thinking of investing in Biomass for the heating demands of a commercial property or for specic ADHOC commercial reasons. If you have any questions then don't hesitate to send us a 'contact us', ask on our forums or contact one of the nations installers listed in our database.
Financial incentives for commercial biomass heating
The RHI is a long-term financial support program designed to promote the use of renewable heat and lessen the use of and reliance on fossil fuels. The scheme is designed to bridge the gap between the low cost fossil fuel heat installations and their renewable heat alternatives through financial support for owners. The government incentive pays you a tariff for each unit of heat your biomass (or other eligible technology) system produces. You will have to apply to OFGEM in order to benefit from RHI payments, your chosen installer will advise and assist in this matter.
Applications that have been correctly filled out usually take four weeks or more to process and approve. Your biomass system will have to have been installed after July 15th 2009 in order to qualify and emission levels must be below a maximum 30g g/GJ Particulates and 150g/Gj Nitrogen Oxide. Installations below 45kW must be Microgeneration Certification Scheme (MCS) accredited. The RHI helps the UK reduce greenhouse gas emissions and meet targets for reducing the effects of climate change but more than this a biomass system can actually make you money, pay for itself over a time period and turn a profit. Click this link for a full breakdown of the terms and conditions for receiving commercial Biomass RHI payments.  Below is a table showing the RHI tariffs and changes for commercial biomass.
"Successful commercial applicants will receive 20 years of Index-Linked quarterly payments, based upon the renewable heat produced."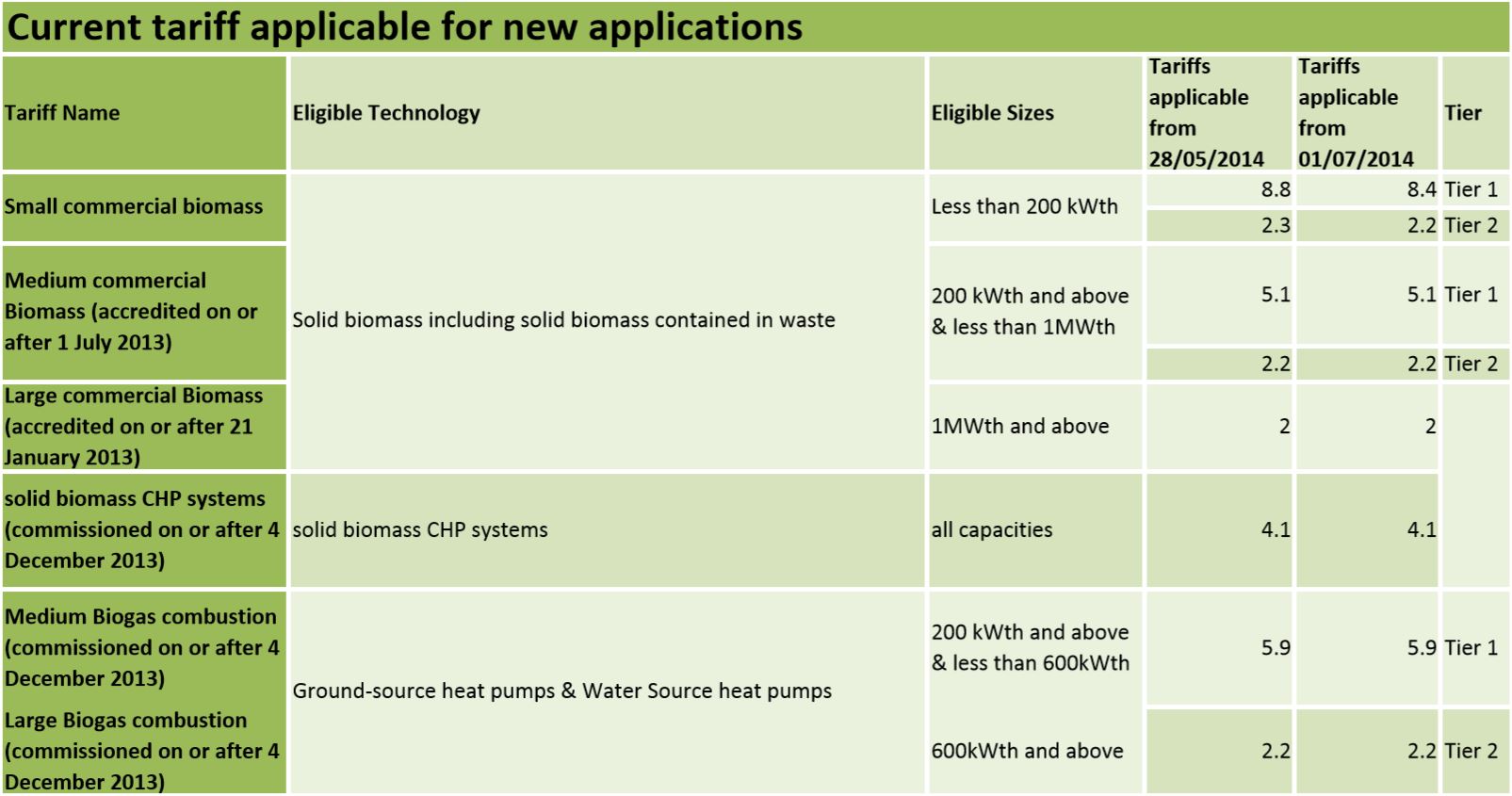 Full non-domestic RHI tariff list which includes tariffs from the start of the scheme.
Domestic RHI payments can still pay for the installation of a biomass boiler and save you a considerable amount of money on your heating bills when switching from some heating methods, depending on a range of factors. Commercial biomass works in the same way but can be used to turn a profit on a larger scale, primarily due to the sheer volume of heat they generate. If you have a business with significant heating demands then an investment in a large scale biomass system could be a sensible, viable and profitable option. An assessment will need to be carried out in order to ascertain what initial capital investment and ROI will be needed in your specific circumstances.
COMPARE PRICES FROM LOCAL INSTALLERS
Compare prices from local companies fast & free
Enter your postcode to compare quotes from leading professionals. We promise to keep your information Safe & Secure. Privacy Policy
Large scale biomass heating explained
A larger scale biomass system designed to produce heat for a number of buildings, be they domestic or commercial, can be run as a business. These systems can help lower CO2 levels through the sustainable nature of biomass fuels and provide a considerable income.
Click here for more information on commercial biomass for district, council or community.
Large scale biomass systems require a fairly large amount of space, they can however be housed outside or in a building, provided there is a sufficient access for fuel as most large scale units have large hoppers and fully automated fueling systems that draw the biomass from large stores nearby.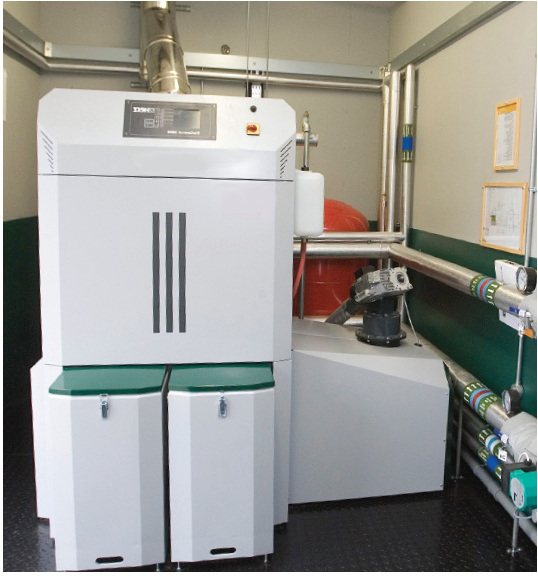 Although biomass systems and the processes they use produce and release some CO2 into the atmosphere when combusted, it is no more than the amount absorbed by the plants during their lifetime (with the exception of fuel transportation). Biomass fuel is therefore regarded as being a low carbon technology, especially if the biomass fuel used is from sustainable and local sources. The way Commercial biomass boilers burn fuel and the biomass fuel they use make them as convenient to use and have installed as fossil fuel boilers are.
This means that your biomass system can help lower your business/organisations carbon emissions thereby improving your carbon accounting report. This can lead to carbon credits and tax relief.
"With increasing government pressure to cut carbon emissions, organisations are looking at ways to leverage their energy saving spend. Companies that are investing in carbon cutting research and development can benefit from HMRC's Research and Development (R&D) Relief. Research and Development (R&D) Relief is a corporation tax relief that may reduce your company's tax bill by more than your actual expenditure on allowable R&D costs. Alternatively, if your company or organisation is small or medium-sized, you may be able to choose to receive a tax credit instead, by way of a cash sum paid by HM Revenue & Customs (HMRC) – but you can only claim R&D Relief if the company is liable for corporation tax."
For more on carbon accounting and tax relief click this link.
There are many companies offering free biomass systems for commercial enterprise. These companies don't work on conventional finance means. They operate by receiving the RHI payments, which over time, will pay for the unit and the agreed interest. The company with the biomass system installed will benefit from the cut in their energy bill because the fuel they are combusting will cost less than the energy generated by their current system. An initial assessment of the company having the system installed will be necessary, to make sure that both the biomass system will be fanatically viable when replacing their current heating method and that the property is likely to be occupied and operational for the lifetime of the contract.
Commercial CHP
Combined Heat and Power (CHP) refers to a technology that generates usable heat and power, usually electricity in a single process, with heat as a by-product.  CHP systems make extensive use of the heat produced whilst generating electricity sometimes in excess of 80% efficiency. This increase in efficiency compared to grid delivered energy is mainly due to the loss of power over distances through dispersion and the inefficient generation methods currently employed in the older power stations.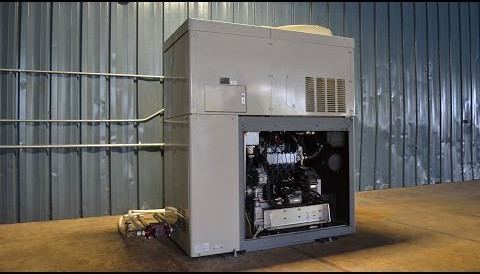 Through the decentralisation of energy technology, a higher efficiency can be achieved, leading to a reduction in fuel use and also to costs for localised demand. Simply put, if you are powering a factory or even a localised community, you can save money on your energy bills both for heating and electricity through this method. CHP delivers a range of environmental, economic and social benefits.
The main design criterion is that, to make the investment worthwhile, there must be a need for both the heat/cooling and electricity produced by the CHP unit onsite or at a very local level. For commercial buildings and small industrial spaces, a factory-assembled, 'packaged' CHP system is appropriate. Some industrial processes are particularly well-suited to CHP, those that use lots of heat and operate around the clock – the manufacture of paper, chemicals, food and drink products, as well as refineries, are among those that can benefit most from CHP. The general components of a CHP system are an electricity generator, heat exchanger, controls and either an engine or a turbine. These components are packaged together into a CHP unit that can be connected to the heating and electricity systems of the building. Buildings or groups of buildings that operate around the clock like hotels, hospitals, and factories are generally particularly suited to CHP systems. A trigeneration system can also be used to produce space cooling/air conditioning through the use of a 'chiller'. Industrial CHP plants are usually designed and built for purpose and vary dramatically in size, however the largest CHP plants rival traditional power plants, delivering huge amounts of energy but at a much higher efficiency. CHP Biomass plants with outputs from 25kW to 1MW per module are available.
Gasification Biomass
It is important to mention the modern/popular method for energy generation through biomass CHP. It's known as gasification. This method catches 65-70% of the energy present in solid fuels by first converting it into combustible gas (syngas). The gas is then burned in the same way we burn conventional gas for energy.

CHP and RHI
Host organisations that wish to reduce their environmental / carbon footprint benefit further through the schemes mentioned in the previous section, however the RHI for CHP works in a different way, as explained below.
Any useful heat produced by a renewable fuel fired CHP generator that is used for process, water, space or district heating will qualify for RHI payments only if the ROC uplift for GQCHP is not claimed. Qualifying useful heat must be measured by correctly installed heat metering equipment. Please note that heat utilised to produce or process the renewable fuel, or used for electricity generation does not qualify for RHI.
Eligible renewable CHP technologies and support levels
The rate at which RHI is paid to a renewable CHP plant is dependent on its thermal output capacity and fuel type. The above 'Current Tariff' table shows RHI tariff banding and rates relevant to renewable CHP alternatively click here.
Find a local installer
Welcome to the biggest directory of UK renewable energy companies