Rainwater Harvesting Kits
There are a number of rainwater harvesting kits available from manufacturers and installers, ranging from small tanks to larger ones. If you have the knowhow then it is possible to install the system yourself but it pays to know what you are looking for.
Is my Site Suitable?
It may seem like a good idea to install a rainwater harvesting kit but you need to be sure that you have enough space
both to collect rainfall and store it in the right sized tank.
Find out if your home or business is suitable for rainwater harvesting here.
Tank Size for Rainwater Harvesting
The main area that you need to look at when deciding to install a rainwater harvesting kit is the size of the tank that you need. This is obviously going to depend largely on the amount you use and calculating this can be quite difficult. It's a good idea to have a water meter installed so that you can monitor your usage over a period of time before you opt for a tank.
The tank volume will also depend to a certain extent on the size of your catchment area, which for most of us is the roof, as well as the amount of rainfall you get.
A number of installers and suppliers have an online calculator available that can determine the size of tank that you need.
COMPARE PRICES FROM LOCAL INSTALLERS
Compare prices from local companies fast & free
Enter your postcode to compare quotes from leading professionals. We promise to keep your information Safe & Secure. Privacy Policy
Below Ground and Above Ground Rainwater Harvesting Kits
The next thing to decide is what type of rainwater harvesting kit to go for. You can opt for one that sits above ground at the side of the house or building or one that is buried in the garden. If you are opting for one that is below ground you will need to take into account the cost of digging and installation. If you are opting for a gravity fed rainwater harvesting kit, or a hybrid, then you also need to find out if your loft space or roof can take the weight of a full tank on it.
There are a variety of kits available depending on what you want to use the rainwater harvesting for. These can be for direct use, use in the home or just for the garden. Click here to shop for a rainwater harvesting kit and iew prices.
What to look for in Rainwater Harvesting Components
Rainwater harvesting systems are fairly simple in respect of the working parts, the main thing that varies is the size and what it is being used for.
Most rainwater harvesting tanks are made of a durable polyethylene plastic that is built to last a long time.
You system will need filters to stop debris entering your tank. For smaller rainwater harvesting kits this can be a self-cleaning filter that fits near the tank. For larger operations you can have a number of filters that are designed to get rid of selected debris such as leaves.
A calmed inlet makes sure that water enters your tank at a steady pace and doesn't disturb any sediment in the bottom.
You will need some automated mains back up that will cut in if the tank runs dry during a drought.
Most tanks should also include an outlet siphon so that overflow water is protected from things like rodents and water stagnation.
Finally, you will need a robust, self-contained pump that can feed into your domestic pipework if you are not buying a gravity fed system.
Discover how rainwater harvesting works.
Warranties and Accreditation for Rainwater Harvesting Kits
The warranties for the various kits out there vary but should be in the region of 15 years for a tank and at least two years for the pump mechanism. It is a good idea to check out what is available for the model you want to choose and shop around accordingly.
Find out more about maintenance and warranty issues here.
Whilst rainwater harvesting in the UK is still in its early stages, particularly for domestic use, you may want to ensure that your supplier is a member of the United Kingdom Rainwater Harvesting Association (UKRHA) which has its own code of practice in place.
DIY or Professional Installation of a Rainwater Harvesting System
If you have the knowhow then it is perfectly possible to install your own rainwater harvesting kit yourself or have a local plumber do it for you. Whilst the tank is easy to set up, particularly if you are going for an above ground system, you will need to make sure that your catchment area is suitably constructed.
If you are opting for a below ground water tank then you might like to calculate the cost of excavating as against getting a professional to do it for you. If you are going for a DIY installation you can opt for the  range of flatter tanks that need minimal excavation and are easier to install (though they obviously need a wider surface area).
If your system is more involved and you lack the necessary skills then you need to find someone to install your rainwater harvesting tank and conduits. You can search our installers' database to find someone in your area, along with advice on what to look for, here.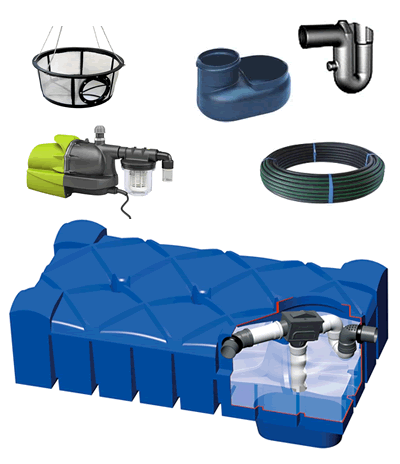 Find a local installer
Welcome to the biggest directory of UK renewable energy companies