This feature enables you to locate your property, work out the available roof area and the direction it faces in. 
Search for your property, when you have located it use the measure tool on the top bar to measure the area of your roof in Square Meters. The map faces north so you can see which direction your roof is facing.
This will give you an idea of how many solar panels you can fit on your roof and if it is facing in the optimal direction to benefit from this technology.
Here is how you do it: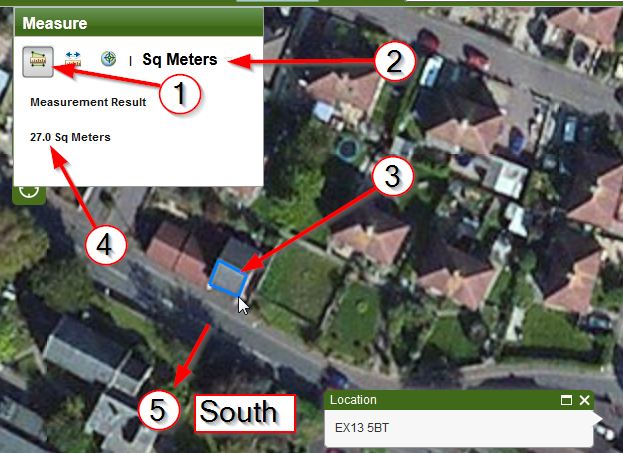 COMPARE PRICES FROM LOCAL INSTALLERS
Compare prices from local companies fast & free
Enter your postcode to compare quotes from leading professionals. We promise to keep your information Safe & Secure. Privacy Policy
Solar Thermal Site location
A wide range of geographical factors will inevitably impact upon the output of your solar thermal installation.
Southern and coastal areas receive the most sunlight, although most areas of the United Kingdom are suitable for the generation of solar energy.
It is vital that the property's roof has little or no shade coverage throughout the day (from trees, hills, other buildings etc.). Even slight shade coverage can greatly reduce system output. If your roof has significant shade coverage, solar thermal panels will not be appropriate. In this case it may be best to look at an air or ground source heat pump to produce low carbon energy.
Provided that there are no shade issues, all areas of the UK are suitable for solar energy technology. You can check the level of sunlight that your area receives using the Met Office's UK solar irradiation map.
How roof orientation and tilt affects output of a Solar Thermal array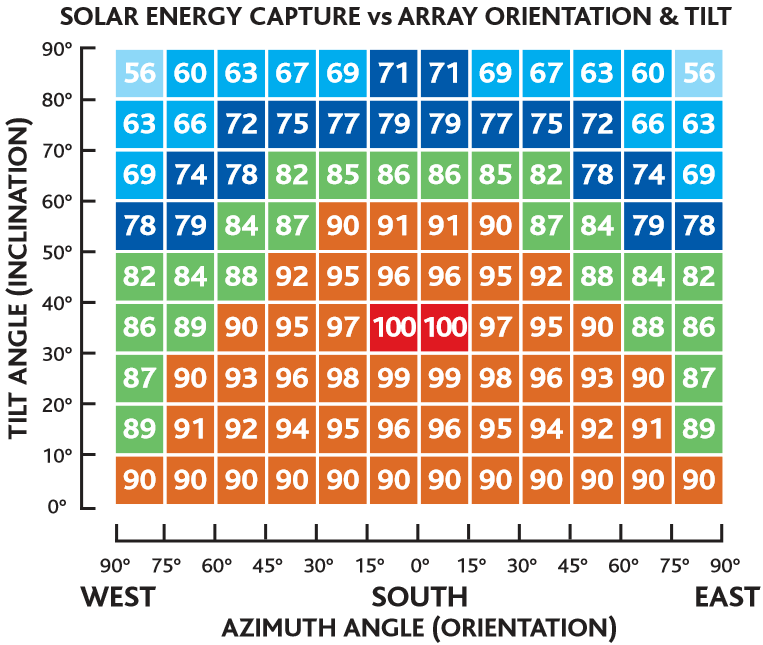 An unobstructed, south-facing roof with an inclination of 30° from the horizontal is optimal, although a solar thermal array can be installed at any angle, whether they are mounted on walls, or on a flat roof.
The majority of roofs in the UK have a tilt of between 30°-45°, though a roof tilt of between 0° and 50° from the horizontal should provide a good output.
As noted above, roofs facing due south are optimal, though by no means essential for solar water heating. The output of south-east- or south-west-facing roofs may be up to 10% lower than those that are south-facing. The output of arrays mounted on east- and west-facing roofs may be up to 20% lower.
If you have an east-west facing house, it is advisable to place one solar collector on each side of the roof, thus maximising the amount of solar radiation received throughout the day.
Planning permission associated with Solar Thermal
In England and Wales, the domestic installation of mounted solar collectors is likely to be considered 'permitted development', meaning that there is no need to apply to the council for planning permission. The following conditions must be met, however:
solar collectors should protrude no more than 200mm (20cm) from the surface on which they are installed (roof slope/wall face)
collectors should not be installed above the highest part of the roof
collectors should be installed, so far as is possible, to minimise the aesthetic impact upon the building's exterior
collectors must not be installed on a property located within the grounds of a listed building or on a site designated as a scheduled monument
In the case of wall mounted arrays, if the property is located in a conservation area or World Heritage site, collectors must not be placed on a wall which faces the road
when no longer operational, collectors should be removed from the property's roof as soon as possible
In Scotland the following conditions must be met:
collectors must not be installed above the highest point of the roof (excluding the chimney)
If installed on a flat roof, collectors must be situated at least 1 meter from the edge of the roof and must not protrude more than 1 meter from the roof's surface
If the property is located in a World Heritage Site or conservation area, solar collectors should not be mounted on the front face of the building/the side of the building visible from the public road
There are important exceptions to the permitted development rule, such as if your property is listed or located in a conservation area. It is advisable to check with your local planning officer if your property falls into these categories.
 Integrating solar thermal panels with existing heating systems
It is a very common practice to integrate solar thermal panel technology into existing water heating systems. You will be able use all of the existing radiators and pipework, though in some cases it may be necessary to buy or use an existing boiler to accommodate the solar thermal system.
If the property has a conventional boiler, integration of the solar thermal system should be relatively simple: all that will need to be done is to fit the solar collectors on the exterior of the property and replace the previous hot water tank with a twin coil water cylinder. This new cylinder will contain the coil tubing from the solar collectors and one from the existing boiler, used as a backup heat source, with the priority always given to the sun.
Solar thermal integration with an existing combi boiler system
If your property has a combination boiler (also called a 'combi boiler'), which takes cold water straight from the mains water supply and heats it as and when it's necessary, integration of a solar thermal system may be more difficult as combination boilers also avoid the need for a separate water cylinder. There are two main types of combi boilers; modulating and non-modulating, the modulating variety adjusts its burner to compensate for variants in the temperature of the incoming water, (applying just enough heat to get the water to the desired temperature) however the non-modulating boilers will not. It is the non-modulating variety that will increase the cost of the solar thermal system installation as more components are necessary to make the system function efficiently (see below diagrams).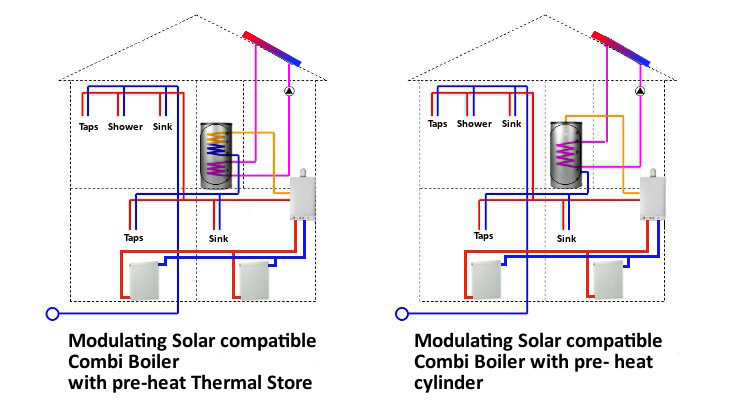 Some (though not all) combi boilers may be compatible with solar thermal technology. If yours isn't, you may need to purchase a new, compatible boiler or the necessary thermostatic mixing valves and tempering valves (see below diagram). If you chose to go down the new combi boiler route this will add between £1,500 and £2,000 to the total cost of the project so you could even consider a heat pump, biomass boiler or even a micro CHP boiler as well. Prospective solar thermal installation companies should advise you on this.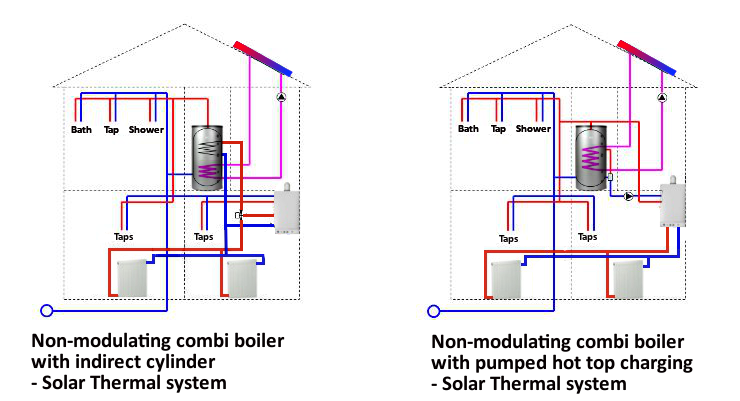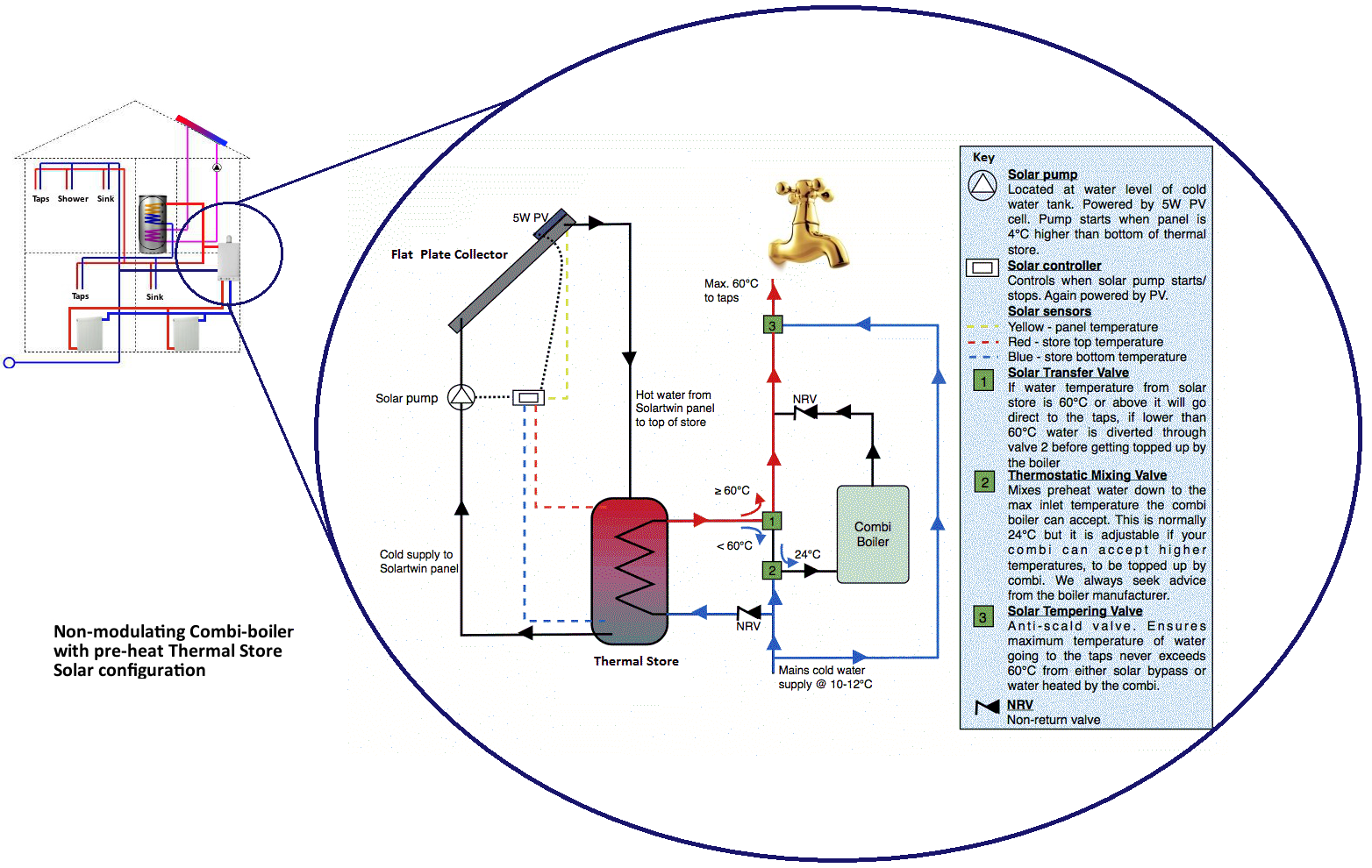 Find a local installer
Welcome to the biggest directory of UK renewable energy companies