Subsidised Solar
The sun emits enough energy for our demands every hour. Its free, clean and entirely renewable. Photovoltaic cells capture this solar energy and produce electricity for use in our homes and work places. This subsidised solar system offers buyers a welcome levy on rising energy bills whilst helping to lower the nations carbon footprint and providing energy security for us all.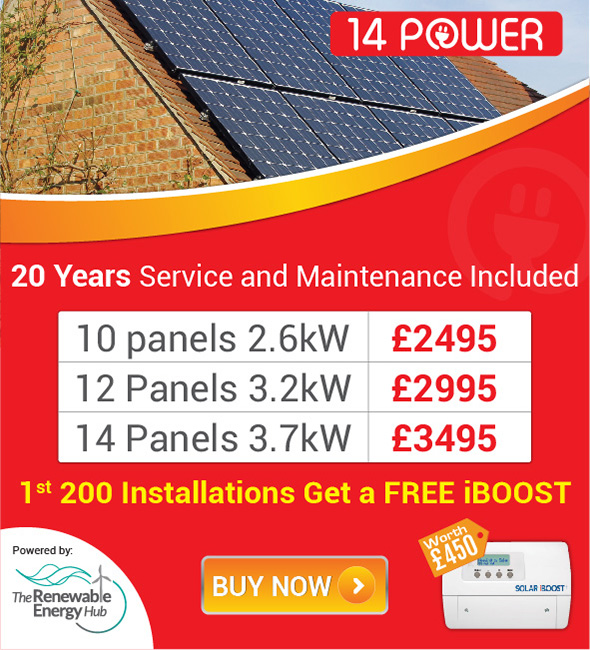 Average savings over 25 years
| | | | | |
| --- | --- | --- | --- | --- |
| System | You Pay | Original Price | Your immediate Saving | 25 Year Saving |
| 10 panels 2.6kW | £2495 inc VAT | £4500-6500 | £2000-4000 | £17,107 |
| 12 panel 3.2kW | £2995 inc VAT | £5000-7000 | £2000-4000 | £20,528 |
| 14 panel 3.7kW | £3495 inc VAT | £5500-8000 | £3000-4000 | £24,344 |
Assumptions: 900kWhrs/kWp, power price inflation @ 8% using all power generated from the solar installation.
This system will give you free power using the generated electricity for a minimum of 25 years. That's no more rushing to turn the electric heater off, washing machine, lights or computer during the day.
Whatever stage of life you're at, you can rest easy with our systems and reduce or eliminate your electricity bills during the daylight hours.
System Costs
10 panels 2.6kW - £2495
12 panels 3.2kW - £2995
14 panels 3.7kW - £3495
All prices inclusive of VAT
What is subsidised Solar?
Our mission is to install the best quality solar technology on as many homes in the UK as we can, at subsidised cost, to every homeowner, so they can receive free power.
We offer all our homeowners solar photovoltaic at cost price, having installed generating panels on thousands of homes, we are confident that you will not get a better deal on like-for-like premium MCS (government accredited) technology.
We will install on any house; facing south, north, west or east. We will install on any secure roof.
We are here to help our customers get free power, reducing their energy costs.
An average house in the UK will use between 2000 and 4000 kWhrs per annum. Whether we are working from home, looking after children or simply trying to stay these systems off a welcome financial break in times of inflated energy costs.
Our average system will provide you with 2500 to 3500 kwhrs per annum during the day, this depends mostly on the size of your roof and where your home is geographically placed.
According to Ofgem the average electricity daily rate for your home is 15p per kWhr, in turn your energy saving could be between £375 and £525 per annum by using all the free power generated from our installations, which means a payback on the starter 10 panel systems of less than 5 years!
Experienced and trusted
Our experienced installation teams have the highest qualified engineers, all working with our solar academy partners to make sure you have the very best solar care possible, from installation to the ongoing maintenance for your system.
We use the highest-grade Tier 1 materials to make sure your home generation lasts for at least 25 years, many similar technologies are still running efficiently after 40 years.
We are so confident that we offer all our customers a gold star care package for the first 5 years, providing a 24hr home care service in the case of any eventuality. All components, including the panels are warrantied, insured and maintained for 20 years, for your total piece of mind.
Frequently Asked Questions:
Any house?
Unlike many funded and part funded offers, we will install on any house suitable for solar. As long as your roof has the physical strength to hold solar panels and has an energy performance rating of D or above, you are eligible. Our teams will run a survey and confirm suitability at no charge to you, so contact us today and find out.
What happens if you want to sell your house?
With virtually all house sales today the estate agent provides you with a set of documents asking what is included in the sale, we ask all our customers to make sure that they include our solar panels. The panels then become part of your sale and should increase the sale value of your house accordingly.
Do I need to ask my mortgage provider if I can install solar?
No
Who insures the solar panels and any direct consequential losses as a result of the installation?
We do..... it's all taken care of for you.
How do I maximize my investment in solar?
Use as much power as you can during the daylight hours. If you are not using all the electricity generated by your system, you can always upgrade to a battery system to store excess energy for evening / night-time use, just ask when enquiring.
Remember solar works when you have light, another name for solar panels is photovoltaics, meaning light generators.
Will I own the panels?
Our installations are owned by us until the end of the 20-year agreement and will automatically pass to the homeowner at that time.
Ongoing maintenance?
We require access to your home to maintain and service the installation.
What do you do next?
Let us know when you are interested and fill in our application form.
Our sales team will then contact you, arrange a time to visit to explain all the benefits and arrange a site survey to make sure you have the installation that is right for you. Our sales teams will tailor the design to your power needs and roof capability.
Having established that you do want to proceed and that you have a clear understanding of the process, we then ask you to enter into an Installation Agreement and pay a deposit from your selected panel option. This Agreement will have a copy of your Land Registry details to confirm that you are the owner of your house.
After 14 days our sales team will contact you to ask if this is something you would like to move forward with, if it is we will arrange an installation date that's agreeable with you, if you have changed your mind a full refund is made back to your account.
On installation, which takes 1 to 2 days, we ask you to complete a satisfaction questionnaire and confirm you are completely satisfied with the solar installation.
When you are completely satisfied we ask for your final payment and you are then entered into our Gold Care package and you can start to enjoy your free power.
Contact us today for more information