Not so long ago, eco-friendly business initiatives were considered a luxury or a gimmick by many entrepreneurs. However, with rising consumer standards and ambitious government initiatives, 'going green' is now a necessity for even the smallest of companies and future start-ups.
Though developing your green credentials from scratch may be a daunting prospect, it's important to bear in mind that this shift in direction can help accelerate your start-up's growth while improving its ethical standards at the same time.
The Benefits of Developing your Green Credentials
In this post, we'll take a closer look at how green credentials can help your business's growth, and some of the most accessible ways for small businesses to go green.
Consumers will Pay More for Sustainable Products
Shifting towards more sustainable materials, supply chains, and processes can all come at a cost, but for many businesses, this cost will be balanced out by the benefit of higher price points that many consumers will be happy to pay.
Research collated by Agility PR shows that "two-thirds of consumers say that they would pay more for sustainable products", despite the fact that a similar proportion of retailers believe that their customers would be unwilling to pay more for a more sustainable brand.
Even with the post-COVID economic uncertainty and subsequent crises, people the world over are willing to pay a little more than usual in order to buy guilt-free. This pattern speaks to a huge opportunity to satisfy your target audience's demands for greener products and services where your competitors may be falling short and offset any increased overheads that can come with building green credentials.
COMPARE PRICES FROM LOCAL INSTALLERS
Compare prices from local companies fast & free

Enter your postcode to compare quotes from leading professionals. We promise to keep your information Safe & Secure. Privacy Policy
It Fosters Trust in your Brand
When your start-up has well-developed green credentials, you'll be able to get to the heart of why modern consumers are willing to pay more for sustainable products and services: trust.
In the modern marketing arena, companies are expected to take their audience behind the scenes and humanise their brands through a transparent social media presence. With this in mind, it's important to show your customers that you stand by your purported ethics and take your commitments to sustainability just as seriously as they do.
Discussing the value of green branding, Louisa Delpy, Operations Director at leading link building agency Hive19, said: "Green Credentials have become more and more important as everyone has become more aware of the impact of climate change and the role we all must take in reducing our impact. Focussing on sustainability as a start-up helps towards the wider goal of achieving net zero, it creates brand reputation and can also provide a sense of purpose which in turn attracts both clients, employees and retains talent who hold similar values. These are all key parts of growth strategy for any organisation."
By investing in eco-friendly practices, products, and partnerships, you can demonstrate how serious you are about sustainability to your core customer base, thereby building a powerful sense of trust in your brand that will act as a solid foundation for future marketing efforts.
It Keeps you Ahead of Regulatory Compliance
Nations across the world are ramping up regulations in order to mandate compliance with their environmental goals. With the UK's target to reach net zero by 2050, businesses of all sizes will have to ensure compliance with new policies at a national and industry level.
If you work on developing your start-up's green credentials now, this will help you get ahead of the curve, and could mean becoming an early adopter of business practices that will be legal requirements in the near future.
Taking a proactive approach to going green will bolster your growth in two ways. Firstly, it will allow you to prepare your start-up for the increasingly tight regulation while it's still practical and avoid the risk of having to play catch-up with legislation at a time when you have more urgent needs to cater for. Secondly, it could help you gain an advantage over competitors who may have to divert time and resources to ensure regulatory compliance when your own business is in a much more relaxed and stable position.
Meeting the challenge of building green credentials head-on can have innumerable benefits for your start up, so don't let this opportunity pass you by!
How to Build your Green Credentials
Now that we've looked at some of the key benefits that going green can have for your business, here's 4 simple and accessible ways for small businesses to develop their green credentials.
Encourage Remote Working
Managing a business made up of remote workers is now easier than ever before. Though moving your venture into a physical premises carries a certain level of prestige, it's important to consider the tangible benefits of doing this if you feel like your start-up is getting too big for your home office.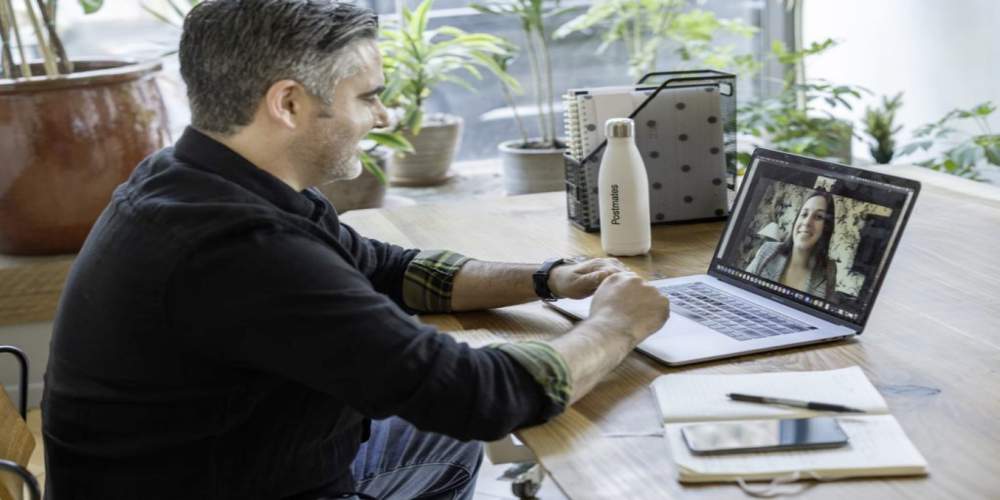 Source: Unsplash
By encouraging a remote working culture, you'll be able to cut down the emissions produced by commuting, save on the energy used by office equipment, and free up capital for future green initiatives.
Partner with a Green Non-profit
Regardless of what your bottom line looks like, there's sure to be a green non-profit out there that you can afford to donate a portion of your profits to.
From tree-planting initiatives like Ecologi to ocean conservation organisations like CleanHub, it's now easier than ever to find a green non-profit that aligns with your company philosophy.
Regular donations to these kinds of organisations will not only give you a straightforward and effective way to channel your business activities into helping the planet but can also serve as a great jumping-off point to greenify your marketing.
Make Energy-Efficient Upgrades
As your start-up grows and becomes dependent on a larger fleet of tech, there'll come a time when laptops start bugging out, printers start choking, and monitors start flickering.
Replacing and upgrading equipment is something every business has to do at some point. When that time comes, focussing on energy-efficiency when you're choosing new tech will help your whole operation manage its carbon footprint, while ensuring you'll get your money's worth through lower energy bills and longevity.
Run Green Brainstorming Sessions
Sustainability in business is a broad and complex topic, where new innovations are changing the way companies can develop their green credentials all the time. Even when you've optimised all your standard equipment and processes for sustainability, there's likely to be many more things your business can be doing that aren't immediately obvious to senior management.
By filling your calendar with regular green brainstorming sessions, you can tap into eco-friendly ideas from all echelons of the business and open your eyes to exciting new sustainability initiatives, keeping your business growth on an all-around greener trajectory.
In Summary…
Developing your green credentials alongside all your other duties as a business owner can feel overwhelming, but the payoff can be significant, and there are plenty of easy ways for small businesses to make their venture that much greener.
We hope this guide makes it easier to give something back to the planet as you expand your small business and push towards your long-term goals!
by Daniel Groves