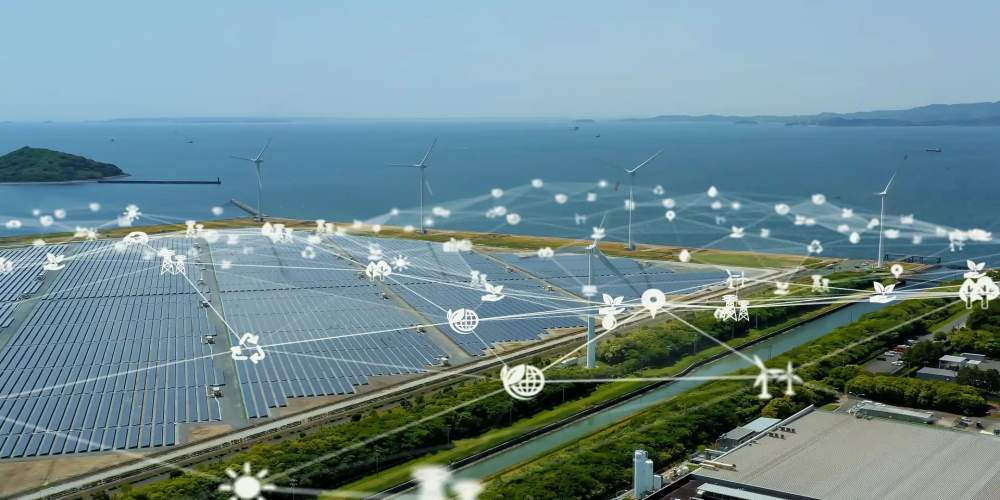 October saw the biggest piece of energy legislation in the UK's history come into law. The government's flagship legislation sets out a raft of measures and regulatory reforms designed to build a greener, more secure energy system.
The Energy Act 2023 has received Royal Assent and will transform the UK's energy system by preparing it for an increasingly decarbonised grid to facilitate the net-zero transition, strengthening energy security, and ensuring household bills are affordable in the long term.
The Energy Act has laid the foundations for an energy system fit for the future and has been welcomed by the UK's largest group lobbying for low-carbon power. The Act will deliver a more energy efficient energy system in the long term which will help to keep energy costs low. It will achieve this by increasing competition in the UK's onshore electricity networks, through a new tender process that will reduce costs for network operation and development. The new model is anticipated to save consumers up to £1 billion off their energy bills by 2050.
COMPARE PRICES FROM LOCAL INSTALLERS
Compare prices from local companies fast & free

Enter your postcode to compare quotes from leading professionals. We promise to keep your information Safe & Secure. Privacy Policy
The Association for Renewable Energy and Clean Technology represents about 500 firms in low carbon power and has actively lobbied for the new law's reforms. Frank Gordon, its director of policy, welcomed the statute while conceding that it left some measures unaddressed.
Frank Gordon said:
"The Energy Act 2023 is a major piece of enabling legislation for our sector, and the REA warmly welcomes today's confirmation as law."
A specific merger regime for energy networks will be created under the Competition and Markets Authority to minimise the risk of mergers between energy network companies having adverse effects on consumers. The government predicts that an estimated £420 million will be saved by households over the next decade.
Described as the biggest shake-up for a generation in energy regulation the government says that the Energy Act "will help unlock £100 billion private investment in energy infrastructure and scale up jobs and growth".
Reforms include the establishment of a Future Systems Operator for better-coordinated planning in strategic energy systems, the application of a Net Zero Mandate to Ofgem's operations and responsibilities, the regulation of heat networks for the first time, and giving powers to the Department of Energy Security and Net Zero (D-ESNZ) to deliver government-supported business models for both hydrogen production and Bioenergy Carbon Capture and Storage (BECCS).
John Pettigrew, CEO of National Grid, said:
"We welcome the passing of the Energy Act into legislation. This is a crucial next step in delivering a secure, affordable, and clean energy future, establishing the needed policy and governance foundations to deliver on the UK's net zero ambitions.  In particular, establishing a Future System Operator will be critical in delivering strategic, whole-system energy planning and oversight as we continue to transform our energy infrastructure. Only by working together as an industry, with the regulator and government, can we hope to achieve an energy transition that delivers for everyone and an energy system that is clean, fair, and affordable for all".
The Energy Act's legislation is wide-ranging covering the entire energy landscape, introducing fresh measures for the renewables, domestic fossil fuels, hydrogen, nuclear, heat pumps, heat networks, carbon capture and storage (CCS), and the energy efficiency sectors, as well as reforms to regulators Ofgem and the Competition and Markets Authority (CMA).
CCS is another significant feature of the act with legislation put in place to provide for a new regulatory framework, licensing regime, and revenue support mechanisms for the transport and storage of carbon dioxide captured from future industrial clusters. The government aims to have enough CCS capacity in place to capture and store up to 30 million tonnes of CO2 from the industry by 2030.
The legislation includes provisions for the establishment of a new public company, Great British Nuclear (GBN) to oversee the government's ambitious targets to ramp up nuclear capacity from today's 6GW to 24GW by 2050.
The act also lays out the groundwork for establishing a new mandate for boiler manufacturers to produce a minimum proportion of heat pumps each year, following similarly the Zero Emissions Vehicle mandate for carmakers which aims to drive up electric vehicle (EV) production.
There are also new measures for Energy Smart appliances to prioritise safety and boost consumer protections to give consumers the confidence to transition to smart products. There are measures to accelerate the UK's smart meter rollout to help consumers manage how much energy they consume and reduce their bills. A smart electricity system could reduce system costs by up to £10 billion a year by 2050.
It has been 18 months since the government published its Energy Security Strategy which presented increased targets for offshore wind, solar, nuclear, both blue and green hydrogen, and North Sea oil and gas, and prepared the way for the first version of the Energy Bill to come out before Christmas 2022.
The fate of onshore wind which has faced a de-facto ban since 2015, is still unclear though the government has promised to adjust planning rules in an attempt to make it easier for developers to secure planning approval.
The energy security strategy for the UK was updated and published shortly after Russia invaded Ukraine in 2022 and the Energy Act 2023 provides a framework for implementing the targets set out by the government for this strategy. The strategy aims for the UK's energy demands to be met by a mix of energy sources but specifically focuses on domestic growth in renewable and nuclear energy generation.
Energy Security and Net Zero Secretary Claire Coutinho said:
"The Energy Act will boost investment in clean energy technologies and support thousands of skills jobs across the country. It lays the foundations for greater UK energy independence, making us more secure against tyrants like Putin, and helps us to power Britain from Britain,"

"The Act also supports our new approach to make sure that families don't feel a disproportionate financial burden as we transition to net zero and forms a central part of our efforts to keep people's bills affordable in the long-term."
The government recently said that building a smarter more flexible energy system would not only help to reduce emissions but could also cut energy system costs by £10 bn a year.
Emma Pinchbeck, chief executive of trade body Energy UK, has declared the Energy Act to be "a welcome step" towards greater policy and energy regulation that should help the UK bring much-needed investment for decarbonising the electricity system.
"As the world shifts its focus towards net zero, the energy sector needs long-term certainty to remain internationally competitive and attract private investment. The broad-ranging measures in this Act are part of a collaborative effort between government, industry, business, and consumer groups to deliver a modern energy system fit for the changing needs of the 21st-century energy market. More work remains to establish frameworks that these powers enable, but this Act will be the foundation upon which the new energy system will be built."
Find a local installer
Welcome to the biggest directory of UK renewable energy companies