How much does a Heat Pump cost?
The costs of heat pump systems can vary significantly between system size, manufacturer and type, with the less effective air source pumps also costing less than the ground source variety. The table below gives you a rough idea of how much you can expect to pay for a heat pump system and its installation.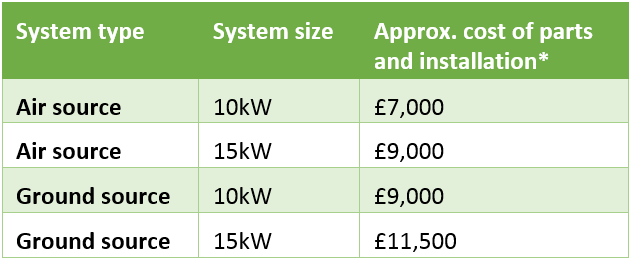 *It should be noted that under the Renewable Heat Premium Payment scheme, approved installations are eligible for a voucher of either £1300 (for air-source systems) or £2300 (for ground source systems) to offset the cost of installation.
Installations costs may be higher depending on your property's specifications, such as, for example, if the installation requires the digging of a deep borehole for vertical tubing.
If you wish to make the best use of the heat pump and install under floor heating, this will cost around £2,000-£3,000, depending on the property. In order to be eligible for the Renewable Heat Premium Payment scheme, it may be necessary to improve your property's insulation.
There are also running costs that must be considered, since the heat pumps require electricity in order to operate. This can be calculated using the system's total efficiency and your property's energy needs. Therefore, if you have a system efficiency of 3, in order to generate 9,000kWh of heat, you will require 3,000 units (kWh) of electricity a year, which will cost £450 (assuming an electricity unit cost of 15p/kWh).
COMPARE PRICES FROM LOCAL INSTALLERS
Compare prices from local companies fast & free
Enter your postcode to compare quotes from leading professionals. We promise to keep your information Safe & Secure. Privacy Policy
The Renewable Heat Incentive for Heat Pumps
How is the domestic RHI scheme going to change?
The new levels of the domestic RHI tariffs as of 1 January and 1 April 2017 are set out in the table below, alongside the new annual heat demand limits. Further inflationary adjustments to the tariffs may be made on 1 April 2017.
 Tariff
Tariff January-March 2017 (p/kWh)
Percentage Increase (%)
New tariff from

 1 April 2017 (p/kWh)

Heat demand limit (kWh) (new)
Biomass boilers and stoves
4.21
53
6.44
25,000
Air source heat pump
7.51
33
10.02
20,000
Ground source heat pump
19.33
1
19.55
30,000
Solar thermal
19.74
0
19.74
Doesn't apply
Other changes include:
annual heat demand limits on which the householder can receive support (see table above). Properties with higher heat demands are still eligible for the scheme
electricity metering required for new air source heat pump (ASHP) and ground source heat pump (GSHP) installations (to monitor heat pump performance), although 'deemed heat requirement' remains the basis for RHI payments
metering and monitoring service package (MMSP) payments to be given in two parts: 50% of the total payment with the first tariff payment, and the remaining 50% paid over the remaining payment lifetime
ground source heat pumps with shared ground loops will not be eligible for the domestic RHI scheme, but will be eligible for the non-domestic scheme.
When do the domestic RHI changes come in?
The changes described above (other than tariff increases) will come into force when the scheme formally changes and will apply to applications made on or after that date – estimated as 1 April 2017.
New applications from 14 December for biomass boilers and stoves, ASHPs and GSHPs will get upgraded to the improved tariff rate automatically when it comes into force. Therefore, anyone installing on or after 14 Dec will still enjoy the imminent uplift.
How is the non-domestic RHI changing?
There are quite a few changes to the non-domestic RHI scheme:
a tariff guarantee process is being introduced for larger projects, with the amount of heat covered limited to 250GWh per year. This relates to large biomass boilers (above 1MW in capacity), large biogas plant (above 600kWth), GSHPs (above 100kW, including shared ground loop systems) and all capacities of biomethane, biomass-CHP and deep geothermal plant
biomethane and biogas tariff levels are increased (see table)
 Tariff
Tariff January-March 2017 (p/kWh)
Percentage Increase (%)
New tariff from

 1 April 2017 (p/kWh)

Small biogas
3.32
33
4.43
Medium biogas
2.60
34
3.47
Large biogas
0.98
33
1.30
Biomethane injection
Tier 1: 3.89
Tier 2: 2.29
Tier 3: 1.76

38
37
43

Tier 1: 5.35
Tier 2: 3.14
Tier 3: 2.42
biomass tariff bands are reduced from three (small, medium, large) to one, which will be tiered according to heat use. The tier threshold is equivalent to a 35% load factor (see table)
Current tariff
Reformed tariff
Tier 1 (p/kWh)
Tier 2 (p/kWh)
Tier threshold
Tier 1 (p/kWh)
Tier 2 (p/kWh)
Tier threshold
Small biomass
3.10
0.82
15%

2.91

2.05

35%

Medium biomass
5.24
2.27
15%
Large biomass
2.05

Not currently tiered.
ground source heat pumps with shared ground loops serving domestic properties will be eligible for the non-domestic scheme on the basis of deemed heat use and subject to electricity metering
new biogas and biomethane plants only eligible if at least 50% of biogas and biomethane comes from waste or residual feedstocks
the drying of digestate at biogas and biomethane plants is no longer eligible for support.
What is not changing:
tariffs relating to non-domestic ASHP, GSHP, biomass-CHP, biogas, solar thermal and deep geothermal stay the same. Further inflationary adjustments to the tariffs may be made on 1 April 2017
the scheme conditions relating to solid biomass CHP, deep geothermal plant, and solar thermal systems (up to 200kW capacity)
wood fuel drying remains an eligible heat use but this is under review and is likely to change in the future
the option to assign rights to RHI payments to third parties will not be extended to non-domestic installations.
Renewable Heat Premium Payment
———-THIS IS NOW CLOSED AS OF MAY 2015————
The Renewable Heat Premium Payment (RHPP) is a Department for Energy and Climate Change (DECC) initiative which aims to support those thinking of installing a renewable energy technology on their property. The RHPP is designed to provide support for homeowners until the domestic Renewable Heat Incentive (phase two) comes into effect in 2014.
The RHPP is a one-off payment (in voucher form) toward the cost of installing a renewable heat source. The current phase (phase 2) of the RHPP runs until March 2014.
Grants: value
Available is as follows:
For air source (air to water only) heat pumps, you will receive a voucher of £1300
Ground source heat pumps systems are eligible for a payment of £2300
Grants: requirements
In order to be eligible for RHPPs for heat pumps, your property must satisfy the following criteria:
it must be owned by you, or if you are a tenant you must purchase the heat pump system yourself
it must have 250mm loft insulation and, where feasible, cavity wall insulation
if the property is a new build, then you must retain ownership of the property either as the occupier or as the Private Landlord. Please note applications from installers, builder/developers or householders in relation to "off-plan" developments, are not eligible for support under this scheme.  Similarly, installations where the renewable heating system was installed prior to the first occupation of the property are also ineligible for the scheme
its heating system must not currently be mains gas-powered (i.e. you must currently use oil, solid fuel, liquid gas or electricity)
You must not have received any payment under RHPP phase 1.
The heat pump itself must be installed by a Microgeneration Certification Scheme-accredited installer
NB. The Premium Payment is not available for air-to-air heat pumps.
If you have any further questions, please email these to [email protected]
For clarification on any matters relating to this scheme please click here.
Finance options for Heat Pumps
There are a number of companies offering finance for heat pump systems in the United Kingdom. Finance, in the form of loans and leasing agreements, is available for domestic, commercial and industrial installations, in both the private and public sectors. Finance for renewable energy technologies allows customers to avoid large upfront costs and make payments out of the income earned from Feed-in tariffs, as well as energy bill savings.
Finance may be offered on a range of bases, each offering varying levels of financial risk and reward, as well as varying interest rates. Typically the finance company will provide the renewable energy technology and the cost of installation in return for payments spread over a period of time. Depending on the type of agreement, the client may either come to own the technology at the end of the period, it may be sold by the company with the proceeds being split between client and company, or the company could retain it.
The arrangements offered by finance companies will vary, however, and each company will offer different advice. It is therefore advisable to obtain quotes and agreement terms from a range of companies, based on clients' energy needs and financial situation. Caution should also be taken when calculating one's ability to make repayments, as the returns offered by some renewable technologies depend in large part on the weather.
Look here for some UK companies offering finance for heat pump technology.
The Green Deal for Heat Pumps
–This Scheme has now been CLOSED by Government —
The Green Deal is a financial mechanism set up by the government to assist in covering the sizable initial outlay needed for many renewable energy systems and other green technologies. The initiative provides upfront cash at a percentage of the product and install cost, this amount is then recouped through a payment arrangement over a period of time. The repayment amount is worked out based on the savings you will be making on your energy bills through your new system. By this method you can have your technology installed and appreciate its specific benefits and not be paying any more than usual and quite often less than you were on your energy bills.
The Green Deal was launched in January 2013 and applies to both domestic and non-domestic sectors. It replaces current policies such as the Carbon Emissions Reduction Target (CERT) and the Community Energy Saving Programme (CESP).
Most types of Heat Pump system are applicable for approval but the system and site will need to be individually assessed before the green deal can be granted.
For further information we provide a full write up of the governments Green Deal Initiative. If you are interested in this scheme you can contact us and we will arrange for a Green Deal assessor to contact you to discuss your requirements.
Read more on The Green Deal Here.
Find a local installer
Welcome to the biggest directory of UK renewable energy companies