Heat Pump Installation Walk Through
Before you even consider who you are going to get to install your heat pump system you need to do a full assessment of the current energy performance of your house or office. Although your installer can do this for you it can be cheaper to employ an independent energy assessor who can issue you with an Energy Performance Certificate (EPC).
An EPC contains:
information about a property's energy use and typical energy costs
recommendations about how to reduce energy use and save money
An EPC gives a property an energy efficiency rating from A (most efficient) to G (least efficient) and is valid for 10 years.
If you are a building developer, contractor or architect looking to install a heat pump in a new build check out our Renewable Energy Shop MCS Sign off package to save you money and time on your project.
To find out more about this fantastic opportunity please visit our Renewable shop at https://shop.renewableenergyhub.co.uk/.
Insulation
How well your property is insulated plays a big part in the size of heat pump you select and how efficient it is going to be. Compared to something like a gas boiler, heat pumps produce heat at a much lower but more constant temperature which means that insulation becomes all the more important. This should include:
Cavity/wall insulation.
Loft insulation.
Double glazing.
You may also want to take a look at how well your floors are insulated if you live in a much older house.
COMPARE PRICES FROM LOCAL INSTALLERS
Compare prices from local companies fast & free
Enter your postcode to compare quotes from leading professionals. We promise to keep your information Safe & Secure. Privacy Policy
Air or Ground Heat Pump?
The next thing you need to look at is whether you are going to go for an air or ground heat pump. As a rule, air heat pumps are easier to install but are slightly less efficient. The one thing you will need to decide is whether you have the external space to accommodate the main pump unit.
A ground heat pump is more efficient but needs a site where the external pipes can be buried and involves a good deal of excavation work. If the workmen cannot access your site with their diggers and heavy machinery then you may want to look at an air source heat pump instead.
Finding the Right Installer
You can search our database for a list of installers close to your post code here. We recommend that you get at least three quotes for the work to be done and do your research on the technology beforehand so that you can ask the right questions.
Before installing your heat pump, you will need to consider the Renewable Heat Incentive which is a government initiative that pays households for the energy they produce. To qualify for this you will need to ensure that your installer is a member of the Microgeneration Certification Scheme.
Air Source Heat Pump Installation
Air source heat pumps can be either mounted onto a wall or positioned on the ground.
First of all you need to find a suitable place to situate the main unit. This ideally needs to be in a sheltered and safe place where it won't be subjected to heavy rains and winds or be tampered with by anyone passing by. You also need a reasonable clearance around the unit (about 200mm for some wall mounted units, more for bigger, floor systems).
The installation will involve an outdoor section and an indoor section, so make sure there is enough space inside as well. Once both units are fitted onto their mountings, refrigerant and drain hose pipes are connected and then insulated, both inside and out. The whole system can then be connected to your indoor heating system such as the boiler or radiators.
Ground Source Heat Pump Installation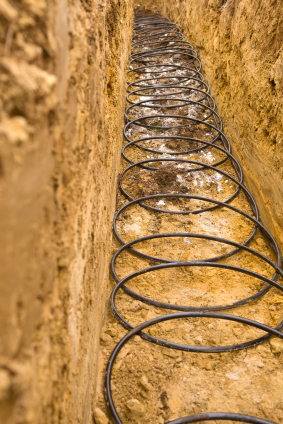 Installing a ground source heat pump is far more complex than an air source one. You will, first of all, need the space to lay the pipes and you will have to provide access to heavy equipment such as diggers.
Installation of a ground source heat pump should not need planning permission despite the disruption caused by digging up the ground, as it is considered a permitted development. If you live in a listed building or in a conservation area then the rules will be different. Either way, it is always wise to check with your local council first to make sure you installation is possible.
If you have enough garden space then an array of horizontal ground pipes that collect heat over a wide area is probably the better option. If you have a small area then it may be possible to dig down vertically by drilling a bore hole up to 100m deep. This will obviously depend on the nature of the ground under your property and may require a full survey which could add a significant cost to the build.
The pipes from the outside array feed into the heat pump within the building which is then connected to the existing heating supply such as radiators as with an air source heat pump.
How to Benefit from the Renewable Heat Incentive
As long as you have had your installation carried out by a company that is part of the Microgeneration Certification Scheme, you will qualify for the Renewable Heat Incentive that pays you for the energy you produce.  The Green Deal has been discontinued. This was a UK government policy initiative that gave homeowners, landlords and tenants the opportunity to pay for energy efficient home improvements through the savings on their energy bills from 2012 to 2015. Ofgem no longer host the Product eligibility list for the RHI. To find out whether a product is MCS certified and is therefore eligible for the RHI scheme, search the MCS product directory.
Ofgem administer the RHI scheme and they make the payments on a quarterly basis. You can find out how to apply here. Whilst there are a number of hoops to jump through to get the Renewable Heat Incentive it can help offset the initial cost of installing your heat pump by providing regular payments for the energy you produce.
Find a local installer
Welcome to the biggest directory of UK renewable energy companies