Applications to the Green Homes Grant Scheme Closed on 31 March 2021
The chancellor Rishi Sunak announced the £2 billion Green Homes Grant scheme early in July which will provide homeowners and landlords with vouchers of up to £10,000 to carry out energy efficiency improvements such as insulation and the installation of heat pumps.
The idea behind the £2 billion package is to help the UK to bounce back from the covid-19 pandemic by saving money, cutting carbon, and creating jobs. A further £1 billion package has been earmarked for the public sector.
The launch of this £3 billion scheme by the government is estimated to lead to 650,000 homes in England being more energy efficient, households saving money on bills, UK's carbon emissions being reduced by more than half a mega tonne per year and the creation of an estimated 140,000 green jobs.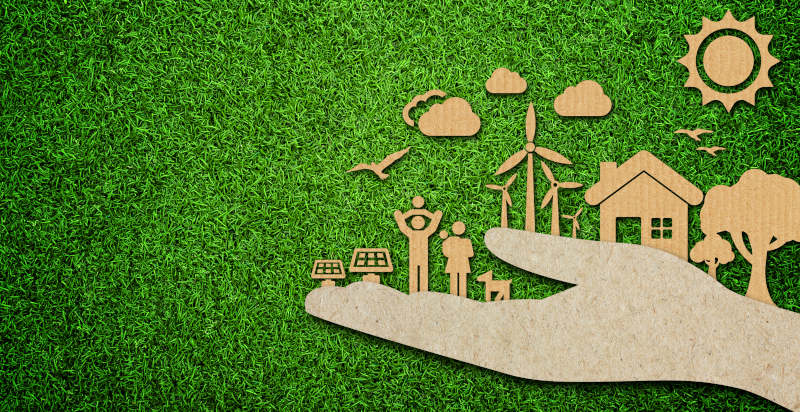 COMPARE PRICES FROM LOCAL INSTALLERS
Compare prices from local companies fast & free
Enter your postcode to compare quotes from leading professionals. We promise to keep your information Safe & Secure. Privacy Policy
Rishi Sunak said:
'This is going to be a green recovery with concern for our environment at its heart."
The Green Homes Grant initiative will launch at the end of September at which time homeowners and landowners will be able to apply for vouchers to make their homes more energy efficient. The grants will see the government pay two-thirds of the costs of energy-efficient improvements, up to the value of £5,000 per household.
For example, if you were to have double-glazed windows installed for around £2,000, then the government would contribute around £1,333 and the homeowner would pay around £666.
Those households with the lowest income in England can receive a voucher of up to £10,000 to cover the full cost of renovations. You can qualify for the Green Home Grants low-income scheme if you receive at least one of the following:
Attendance Allowance
Carer's Allowance
Child Tax Credits (CTC)
Contribution based Employment & Support Allowance (ESA)
Contribution based Jobseekers allowance (JSA)
Disability Living Allowance (DLA)
Income based Employment & Support Allowance (ESA)
Income based Jobseekers allowance (JSA)
Income Support (IS)
Industrial Injuries Disablement Benefit
Housing benefit
Pension Guarantee Credit
Personal Independence Payment (PIP)
Severe Disablement Allowance
Universal Credit (UC)
Working Tax Credit (WTC)
New build domestic properties that have not yet been occupied and non-domestic properties such as shops and offices are not eligible for the Green Homes Grant. Landlords cannot apply for the low-income grant. People living in Wales, Scotland and Northern Ireland are also not able to apply for the Green Homes Grant. You cannot apply for the scheme if you have already received a grant from your local authority as part of the Local Authority Delivery Scheme.
The UK government has extended the date by which Homeowners must redeem the voucher and make sure improvements are completed to the 31 March 2022. It is always worth checking whether the scheme has been extended or if a different scheme has taken its place. We will update this page as and when new information is released.
What does the Green Homes Grant Cover?
The government has now released the complete list of energy saving improvements covered by the grant. They have been divided into two categories of renovations: primary and secondary measures.
Insulation, double glazing, and heat pumps are among the sanctioned improvements under the scheme, but gas boilers are notably absent from the list. Though there is widespread support for the Green Homes Grant there are some concerns that the vouchers might lead to poor quality work. The government is urging suppliers to sign up for TrustMark or MCS accreditation in order to take part in this scheme.
Primary Measures
Application can be made for one or more of the primary home renovation projects under the Green Homes Grant. It is important to note that homes will need to be deemed to have adequate insulation before they are eligible for the installation of low carbon heating. You also cannot use the voucher to replace insulation or low carbon heating measures that are already installed in your home. However, you can use the voucher to 'top up' existing measures (for example, installing additional loft insulation up to the recommended level).
Solid wall, cavity wall, floor, under-floor, lofts, or roof insulation
Air source heat pumps (ASHP) or Ground Source Heat Pumps (GSHP)
Solar thermal
Secondary Measures
At least one primary measure has to be carried out before you can take advantage of any of the secondary measures. Furthermore, you will only qualify for secondary measures if you are upgrading to these measures.  To give an example, if you already have double-glazed windows you cannot qualify for new double-glazed windows.
Double or triple glazing/secondary glazing, when replacing single glazing
Updating to draft-proof windows
Upgrading to energy efficient doors
Hot water tank/appliance tank thermostats/heating controls/smart meters for heating
Vouchers for secondary measures will be capped at the same amount provided in relation to the primary measures. This means, for example, that if you claim £1,500 for insulation, a primary measure, then you will receive a maximum of £1,500 for double glazing, a secondary measure.
COMPARE PRICES FROM LOCAL INSTALLERS
Compare prices from local companies fast & free
Enter your postcode to compare quotes from leading professionals. We promise to keep your information Safe & Secure. Privacy Policy
Items not Covered by the Vouchers
building a new extension or conversion to your home
insulating a conservatory with no fixed heating
installing a new fossil fuel boiler (such as gas, oil, or LPG boilers)
How to Claim the Green Homes Grant Vouchers
In order to take part in the scheme you can apply online from the end of September onward. Applications need to detail the energy efficiency measures that you wish to carry out. Once you have submitted your application and while you wait for the scheme to start, you can find out what improvements can be made to your home and obtain quotes from certified tradespeople. Tradespeople employed to make the improvements must be from a TrustMark Registered business which the government believes will give householders the confidence that improvements to their homes will be of the highest quality.
The next step will be for one of the suppliers to issue a quote and for the requested work to be approved. At this point the government will issue the voucher. Only when you have had your voucher application accepted should you commit to any work being carried out. The vouchers will cover two-thirds of the renovation costs and can be used with any accredited partners.
Full details have not yet been released about how the application process will work but it is understood that before any work can start a review of the energy efficiency of your home will need to be undertaken. This will likely take the form of an energy Performance Certificate (EPC), which takes around 60-90 minutes to complete. An EPC means a home visit needs to take place as it cannot be done online.
If you need advice and support on how to improve your home's energy efficiency and which measures you could be eligible for, we are here to help. Our friendly advisers at the Renewable Energy Hub can guide you through the process.
You will not be able to sign up for the scheme until the end of September. This is important as in the weeks after the scheme's announcement, scams targeting homeowners were reported. Some homeowners received scam calls, emails and texts claiming that they were eligible for grants or offering specific energy-saving measures, such as insulation.
If you take into account existing funding opportunities for green energy, a £5,000 voucher makes the switch to renewables more affordable than ever. There are a number of existing funding options for domestic renewable energy technologies such as:
Can the Green Homes Grant be Used in Conjunction with the Renewable Heat Incentive?
Applications to the Green Homes Grant Scheme Closed on 31 March 2021
The Green Homes Grant can be used with the domestic Renewable Heat Incentive but only if you do not currently receive RHI payments for the specific installation you are applying for with the grant.
The RHI is a government scheme which provides financial support to homeowners who install renewable heating systems, such as heat pumps, for a period of seven years.
If you already own a heat pump covered by RHI you could still choose to have a further renewable heat measure such as solar thermal, under the Green Homes Grant.
You will first need to apply for a Green Homes Grant and then apply for RHI. This cannot be done the other way round, RHI first and then Green Homes Grant. The cost of the vouchers will then be taken off the value of your projected RHI payments.
COMPARE PRICES FROM LOCAL INSTALLERS
Compare prices from local companies fast & free
Enter your postcode to compare quotes from leading professionals. We promise to keep your information Safe & Secure. Privacy Policy
The vouchers are designed to help families save money on their annual energy bills. The Treasury has estimated that families could save as much as £300 per year through the Green Homes Grant.
Though the vouchers will provide a greatly needed boost for low income households the £5,000 cap or £10,000 for the poorest homeowners may not be enough to cover the cost of certain home efficiency improvements. To give an example, wall insulation on a three-bedroom house could cost in the region of £10,000, while on a larger detached home the cost could be between £8,000 and £15,000. Vouchers up to £5,000 will not cover two-thirds of the costs in these cases.
New Heat Pumps Tariff
Good Energy, the clean energy supplier revealed that the Green Homes Grant has influenced them to create a new green tariff specifically for heat pump owners. This is because the grant makes it more economically viable for homeowners to install low carbon renewable technologies. In a first for the UK, the tariff will offer cheaper unit rates for homeowners with heat pumps, as well as offering reductions in rates during specific times of the day.